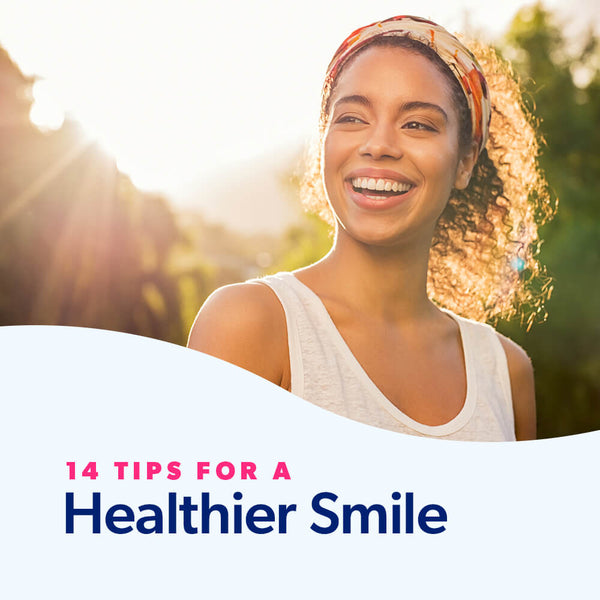 14 Tips for a Healthier Smile
A smile is often one of the first things people notice about us, and many people take great pride in having an attractive smile. However, the importance of having a healthy smile goes beyond mere appearances. The health of our teeth and gums is directly tied to many other health conditions in the body — especially heart health. 
Maintaining your oral health has numerous benefits, including prevention of dental and medical problems and increasing confidence in your appearance. We all know some of the most basic tips for a healthy mouth, like brushing and flossing, but some healthy smile tips may surprise you. Check out these tips to make your smile shine for years to come.
1. Brush Your Teeth Regularly
You probably know the most basic tip for a healthy smile is to brush your teeth. It seems simple, however, you'd be surprised at how many people don't brush often enough or don't brush properly. At a minimum, you should brush your teeth twice a day. Brushing once in the morning and again before bed is a great routine to get into. You can also brush your teeth after mealtimes if your dentist recommends it to keep them clean throughout the day. 
Brushing your teeth removes the plaque buildup that can eventually turn into tartar, which is harder to clean off on your own and can be damaging to your teeth and overall health. In addition to your brushing frequency, your technique is also important. Your toothbrush should be angled at about 45 degrees towards the gumline, and you should use gentle pressure. 
Go slowly, and focus on just one to two teeth at a time. Don't forget to brush your tongue, too. Bacteria tends to hide here and can cause bad breath. With regular, proper brushing techniques, you can have much healthier, whiter and nicer looking teeth. 
2. Choose the Right Toothbrush
Making sure you brush properly and often enough is important. However, making sure you have a high-quality toothbrush can be equally as important. If you prefer to use a manual brush, be sure to choose one with soft bristles. Even though you can find toothbrushes on the market with tougher bristles, most dentists do not recommend these types of toothbrushes. They can be too tough on the gumline, as well as the tooth enamel. 
There is a wide variety of electric toothbrushes available today, which many people choose to use instead of a manual brush. In fact, studies show that electric toothbrushes offer more effective teeth cleaning for at-home use than manual brushes. Some of these brushes are even designed for special needs, like whitening or sensitive teeth. Today's units are designed better and are longer lasting too, so you can simply replace the brush heads over time and keep the electric handle for years. 
3. Eat a Healthy Diet
Eating healthily is great for the whole body, and it can help keep your teeth healthier too. It's important to limit added sugars and processed foods, as these can encourage tooth decay. A healthy diet that is full of whole foods and fresh produce and is rich in nutrients is key to a healthy smile, as well as a healthy body overall. Sugars are hidden in many of the things we eat and drink. It's best to avoid sugary foods as much as possible for the health of our teeth.
4. See a Dental Hygienist for Regular Cleanings
Many people put off seeing their dentist and dental hygienist out of fear, due to lack of finances or other reasons. It's very important to schedule regular visits with your dentist for a checkup on your teeth and a professional cleaning from the hygienist. For most people, a cleaning and checkup should be performed about every six months. Regular professional teeth cleanings can get your teeth much cleaner and whiter than at-home brushing alone. 
Additionally, your dentist will be able to check on your teeth and find any issues before they become bigger problems. Your dentist can also perform screenings and see earlier evidence of other major health concerns. This way, you can get checked by a doctor in the early stages of these health conditions. 
5. Take Care of Dental Issues Right Away
It's important to take care of any dental issues that crop up as soon as possible. Dental issues like cavities only get worse over time and can lead to other health complications. If any issue is revealed during a checkup or if you have tooth pain or other symptoms, it's important that you see your dentist to have the issue taken care of in a timely manner. Caught early, many dental issues can be resolved quickly and easily. If dental issues are left alone, they could lead to more costly, invasive treatments. 
6. Use Floss Daily
Even if you are a diligent tooth-brusher, you may not be getting completely clean without flossing. When used properly, dental floss gets under the gumline and in between teeth where a toothbrush simply can't reach. Though mastering flossing technique may feel challenging at first, it gets easier once you make it a part of your normal routine. 
For proper flossing, wrap a string of floss around your fingers and slide the floss in between each of your teeth, sliding and scraping down into the gumlines. If you haven't flossed in a while, you may notice a little bleeding. This is normal, and it should go away after a few weeks of regular flossing. You can also try an oral irrigation device that sprays water between your teeth and functions like flossing. Many people find this to be more comfortable and convenient. 
7. Don't Smoke or Use Chewing Tobacco
There are many reasons to not smoke or use chewing tobacco, but oral health is one of the biggest. Smoking and using chewing tobacco can create deep stains on the teeth that are difficult to clean off and make your smile look more dull. Tobacco products can also lead to your gums receding, causing gum disease and unsightly dark pockets between the teeth. There is also a much higher risk of oral cancers with extended usage of cigarettes and chewing tobacco. 
8. Protect Your Teeth When Playing Sports
If you're involved in any type of sports programs, be sure to take the proper precautions and protect your smile while playing. The exact recommendations vary with different sports, but a team may require or advise the use of both helmets and mouth guards. Specialized mouth guards are available for a wide variety of sports and activities and can prevent chipped or broken teeth as well as other mouth injuries. Any time you play, use the right gear for your sport to ensure your teeth are protected against injury. 
It's just as important to keep your sports mouth guards clean. If you're reusing your mouth guard repeatedly and not cleaning it properly, it can become a breeding ground for bad bacteria that can lead to problems like tooth decay, infections and bad breath. Clean your mouth guard as directed with a quality antibacterial mouth guard cleaner, like EverSmile SportsFresh. This step will protect your smile from bacteria while your mouth guard keeps you safe during sports. 
9. Cut Back on Beverages That Stain
If you're a frequent coffee drinker or you enjoy tea or red wine regularly, you probably know these beverages can stain your teeth and make them look darker and duller. While a dental hygienist can brush away some of these stains, some of them get deeper into the teeth and have longer-lasting stain power. To avoid this and have shinier, whiter teeth, cut back on these beverages if you can. Using a straw or sipping water in between can also be helpful in preventing serious stains. 
10. Keep Properly Hydrated
Drinking plenty of water throughout the day has numerous health benefits, but did you know it can also lead to a healthier smile? Sipping water all day helps keep your teeth clean, rinsing away residues from other foods and drinks that cling to teeth and can cause decay. On the flip side, drinking too many sugary beverages can speed up tooth decay. Plain water is the healthiest thing you can drink — both for your smile and the rest of your body. 
11. Avoid Carbonated Beverages
You probably already know that soda is bad for you with its abundance of added sugars and artificial ingredients. These drinks are unhealthy for your teeth and your body in general. Even carbonated water can be hard on your teeth. 
Fizzy water beverages have soared in popularity recently and are better in terms of the lack of calories and added ingredients. However, the carbonation that gives these drinks their unique flavor and "bite" comes in the form of phosphoric acid and citric acid — both of which can be damaging to the surface of your teeth. These acids can eat away at tooth enamel, putting you at greater risk for cavities. 
If you love flavored, fizzy drinks, try to enjoy them in moderation. Cut out sugary sodas and limit your carbonated water intake as much as you can. Drink with a straw to avoid the beverage having contact with the teeth. Replace some of these drinks with plain water if you can. If you find tap water too plain, jazz it up with citrus slices, berries, cucumbers, fresh herbs and more.
12. Watch for Health Conditions That Affect Oral Health
Sometimes to know how to get a healthy mouth, you need to start by looking at other health conditions. Many health issues are directly related to the health of your teeth and mouth, and it's good to be aware of these conditions. If you are already dealing with obesity, diabetes, high blood pressure or heart conditions, you may notice issues with your teeth too. Ignoring these important health concerns can be dangerous and affect the health of your teeth. 
It's important to maintain an overall healthy lifestyle, which includes eating right and exercising regularly. Be mindful of health conditions that can cause additional complications and get regular checkups from a health provider to keep any issues in check. Many of these issues are treatable and preventable with proper care. 
13. Use Quality Whitening Products 
There are many products available for teeth whitening in all sorts of different formats. You can find everything from traditional gels in a tray to whitening strips and even pens to make the process convenient. Each of these whitening products has different benefits and is best for different purposes. 
Whether you just need a quick touch-up or a professional-level whitening job, there's a product for you. Check with your dentist for recommendations if you're not sure which type is best for you. For quality whitening paired with extreme convenience, you need WhitenFresh from EverSmile. Other whitening products may be costly or require you to wait hours with the product on your teeth. This on-the-go spray works in seconds and has the added benefits of preventing tooth decay and freshening the breath.
14. Keep Retainers and Aligners Clean
Many teens and young adults use invisible aligners and retainers to straighten their teeth. These devices are great for giving you the even smile that you want, but it is very important to keep them properly cleaned. Retainers and aligners can quickly breed bacteria if they are not regularly cleaned. This bacteria is not good for the health of your teeth and gums, and it can contribute to issues with bad breath.
It's important to clean these dental devices as directed by your dentist, using a top-quality cleaning product like WhiteFoam for aligners and clear retainers. This foam is more convenient than other cleaning products and is safe to put in your mouth. It even freshens breath at the same time. 
What Products Can Help Keep My Mouth Healthy?
Today there are a dizzying array of oral care products on the market, and it can be hard to know what to choose. That's why at EverSmile, we specialize in creating simple, effective oral cleaning products designed to protect your smile and keep your mouth healthy. We offer a variety of products specialized for retainers and aligners, sports mouth guards, dentures, braces and more. No matter your situation, there's a unique oral cleaning product for you. 
Browse our selection of products online, and contact us with any questions. 
Liquid error (templates/article line 357): Could not find asset snippets/blog-widgets.liquid