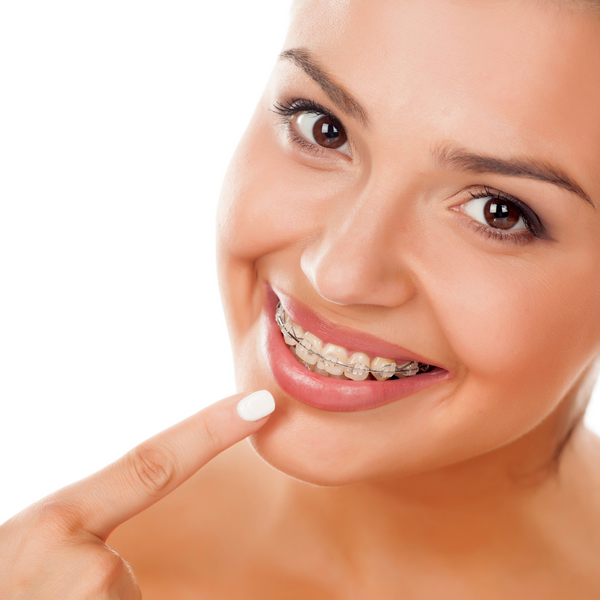 How to Get Rid of Yellow Staining From Braces
The moment your braces come off is a major high point in your life. You've spent a lot of time waiting and working to achieve the straight teeth and radiant smile you've always dreamed of. But sometimes when the braces come off, your smile isn't quite what you expected. Discolorations and yellowing can be disappointing, but these effects are normal.
Take a deep breath! There are ways to prevent yellowing so you can get the perfect smile with stunning white teeth.
Why Do My Teeth Look Yellow?
Yellowing and staining on your teeth while you have braces is completely normal for people of all ages. Braces are tough to clean thoroughly, which can lead to diminished oral hygiene that causes stains.
You might not be able to clean off surface stains as efficiently as you should. Foods with high levels of tannin or intense red or yellow coloring can stain your enamel and your braces, leaving you with yellowed teeth. The wires and brackets of your braces also create a lot of spots for ortho gunk and food particles to get stuck. If these bits aren't cleaned out properly, plaque and tartar can build up over time. 
Plaque uses sugars and acids from food particles to demineralize your teeth, creating white spots. Eventually, plaque hardens into yellow or brown tartar that stains and is tough to remove.
How to Get Rid of Yellow Teeth After Braces
While tooth staining during braces is totally normal, it's also totally preventable and treatable. Ready to reclaim your pearly whites? Here are three strategies for how to get rid of yellow brace stains and discoloration.
1. Avoid Food and Drinks That Cause Stains
While you've got braces, you can work to proactively prevent staining by maintaining pristine oral hygiene and avoiding foods that cause trouble. That means cutting back on:
- Coffee.
- Chocolate.
- Soda.
- Red wine.
- Tomato sauces.
- Turmeric.
- Foods with heavy dyes.
Be sure to brush after every meal and floss at least twice per day. If you eat or drink something you think may stain, swish some alcohol-free mouth wash to rinse it away.
2. Fight Stains While You Straighten
Maintain top-notch oral hygiene and work to whiten your teeth while your braces are still in place with EverSmile OrthoFoam brace cleaner. Our patent-pending cleaner foams up and penetrates porous enamel, sending bubbles to access every nook and cranny in your mouth for a deep clean and whitened teeth even underneath your brackets.
Use OrthoFoam up to four times per day to fight stains and keep your mouth sparkly clean. Within a week of consistent use, you should start to see less plaque buildup. After two or three weeks, you'll notice your smile is whiter and brighter.
3. Whiten After the Big Reveal
If your shining braces-removal moment is dulled by discolored teeth, you'll want to get right to work whitening your smile. You'll also have a new challenge — keeping your retainer or aligner clean. Accomplish both tasks with half the effort by using EverSmile WhiteFoam retainer cleaner. 
WhiteFoam is a cleaner that you apply directly into your retainer or aligner and then into your mouth. It cleans your device while also gradually whitening your teeth and killing 99.999% of bacteria.
Make Your Smile Dazzle With Products From EverSmile
EverSmile has products proven to keep your teeth clean and free from discoloration while you complete your orthodontic treatments. Browse our online catalog today to find everything you need for a fresh, flattering smile. 
Liquid error (templates/article line 357): Could not find asset snippets/blog-widgets.liquid