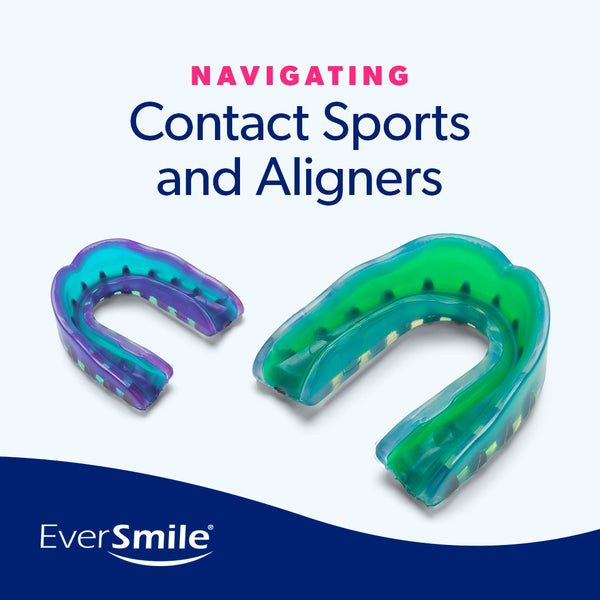 Navigating Contact Sports and Aligners
As an athlete, you have a lot on your mind when you're on the field or court. You're thinking about your opponent's next move, memorizing plays and doing everything you can to win. You don't want your teeth or aligners taking up valuable thought space as you play.
If you're new to wearing aligners while playing sports, you might question how to successfully navigate this task. You may wonder if you can play football with aligners, or if you should wear a mouthguard over your aligners. Balancing contact sports and aligners doesn't have to be tricky, though. Consult the guide below to learn more about contact sports and aligners.
Why Wear Aligners as an Athlete?
If you're choosing a teeth-straightening solution, you have a few options. Metal braces are traditional, but if you're an athlete, whether a teenager or an adult, you might want to consider Invisalign or other clear aligners. These solutions give you a discreet way to straighten your smile, boosting your confidence on and off the field or court.
Aligners are also a more convenient option for athletes. You can easily remove your trays if you need to before practicing or playing a game. You also eliminate the need for emergency orthodontist visits. Metal braces can become damaged after a forceful impact during contact sports. You'd have to go to the orthodontist for emergency repairs to ensure your braces are working to adjust your teeth correctly. That wastes valuable time and money. With aligners, you won't have to worry about emergency replacements, as long as you're careful when you wear them.
Wearing Aligners While Playing Sports
If you already have aligners or you're considering getting them, you'll want to know how wearing aligners works while playing sports. This will depend on the type of sport or sports you play. Your orthodontist may also have suggestions, so be sure to discuss any sports you play with them to explore your options. In general, there are some sports you can play with aligners and some you shouldn't.
What Sports Should You Remove Your Aligners For?
Some contact and high-impact sports can jostle you around, putting your smile and aligners at risk. If you try playing certain sports while wearing Invisalign, you risk breaking your aligners after a forceful impact. You don't want to break a piece of expensive dental equipment just because you kept them on during a particularly rough game.
Whether you should remove your aligners will depend on the intensity of your sport, but you may want to avoid wearing your aligners while participating in the following:
Boxing
Football
Hockey
Lacrosse
Martial arts
Polo
Rugby
Wrestling
Many of those sports may require mouthguards and gum shields, anyway. Even if they don't, you should still take care to remove your aligners before playing.
What Sports Can You Play While Wearing Aligners?
Light and no-contact sports don't pose as much of a threat to your aligners as high-impact sports. There are some cases where you might be able to keep your aligners in as you play or practice. Athletes participating in these sports can consider leaving their aligners in:
Basketball
Cycling
Gymnastics
Soccer
Tennis
Volleyball
Of course, whether these or similar sports are light contact will depend on how you and others play. If you feel your league is a bit rough, consider leaving your aligners in the locker room. You should also talk to your orthodontist to see what they recommend for your particular situation.
What to Do When Wearing a Mouthguard
If your contact sport requires a mouthguard or gum shields for safety, simply take your aligners out and store them properly before putting in the protective gear. Trying to wear your mouthguard and your aligners at the same time will create an improper fit. You risk discomfort or damaging your mouthguard or aligners, which are both expensive pieces of equipment. Fortunately for aligner users, it's much easier to swap trays for a mouthguard than it is to get a custom mouthguard to fit over metal or ceramic braces.
If you're tempted to try playing sports while wearing Invisalign instead of a sports guard, consider the risks. Your sport requires a mouthguard for a reason. And you're putting a lot of time, money and effort into straightening your smile with aligners. Forgoing your gum shields and mouth protection could damage your smile, putting you back to square one. So remove the aligners and put in your mouthguard to save your investment.
With a long game or practice scheduled, try to compensate for the amount of time your aligners spend out of your mouth. You should be wearing your aligners in your sleep to help you meet the 20-hour to 22-hour daily wear requirement. If you're playing sports that day and remove your aligners, avoid removing them as much as possible throughout the rest of the day. Talk to your dentist, orthodontist or Invisalign provider if you find yourself removing your aligners often.
Keep Your Mouthguards and Aligners Fresh With EverSmile
If you're an athlete who wears aligners or mouthguards, use EverSmile to keep everything clean and fresh. You already have enough on your mind when you're playing or practicing your sport. Don't let funk on your mouthguard or aligners distract you from your next move. At EverSmile, we offer cleaning products that clean your mouthguards and aligners for a fresher, confident smile. Choose from:
SportsFresh: As the only on-the-go mouthguard cleaner, SportsFresh is the perfect addition to your sports gear lineup. Just pump one or two sprays into your mouthguard, put it on, spit out the excess cleaner and you're ready to play!
WhiteFoam: This retainer and aligner cleaner removes buildup and freshens your breath, all while gradually whitening your teeth with no sensitivity. Use a pump of WhiteFoam before putting your aligners back in for a convenient, on-the-go way to clean your trays.
AlignerFresh: Keep this pocket-sized cleaning spray in your gym bag for a simple way to remove aligner buildup. Spray AlignerFresh into your top and bottom trays, spread the solution around, put them in when you're done playing or practicing and spit out the excess.
Shop EverSmile's array of products online or find us in a store near you today!
Liquid error (templates/article line 357): Could not find asset snippets/blog-widgets.liquid