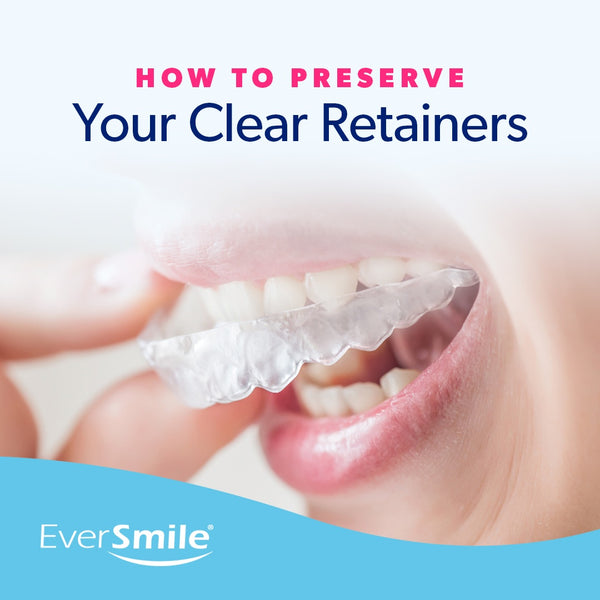 How to Preserve Your Clear Retainers
Retainers are vital for straightening your smile. Even when you're done with aligners or braces, your retainers prevent your teeth from shifting back into their misaligned positions. Because these appliances are essential, it's useful to know how to preserve your clear retainers. You'll help them last as long as possible and protect your investment in your smile.
With help from the guide below, you'll learn plenty of ways to take care of your retainer — from how to clean it to how to store it and more!
How Long Do Clear Plastic Retainers Last?
Clear plastic retainers can last anywhere from six months to two years, but your retainer's lifespan will depend on many factors. The material and brand will determine the appliance's initial quality. Your orthodontist may also notice a change in your smile that requires a new retainer over time. But once your retainer is in your hands — or rather, your mouth — it's up to you to care for it and preserve it. You can then get the longest lifespan possible from your appliance.
Why Take Care of Your Retainer?
As you'll see, there's a lot you can do to make retainers last longer and care for them the right way. So why do it? You should take a bit of time to cleanse and maintain your retainer every day because:
It's an investment: Your retainer represents a money and time investment. If you don't care for it properly, you may have to spend more on a new one. Neglecting to care for your retainer can also impact your smile, which you already put so much time and money into straightening.
It helps your smile: Your retainer is an essential way to care for your smile after years of wearing braces or using aligners. You don't want to use a dirty appliance covered in bacteria, plaque and grime. You also don't want to use a retainer that's discolored or has a funky smell, as that could impact how you feel about your newly straightened smile.
It can keep your mouth healthy: Bacteria and plaque build up on your retainer. When you don't clean that funk off your trays, it sits on your teeth until you remove your retainers. Cleaning your retainer helps keep your mouth clean and your breath fresh. It can also help you avoid tooth decay from an extreme buildup of bacteria and plaque.
How to Care for Clear Retainers
Knowing how to take care of a retainer doesn't have to be complicated. Get into the habit of maintaining your appliance the right way, and it'll become easier over time. Start by caring for your retainers with these tips:
Don't Lose It
This tip for how to take care of a retainer may seem obvious. But because you remove your retainer throughout the day, it can be easy to lose track of it. Try to put it in the same place when you remove it at home, and remember where you put it when you're out and about.
Losing your retainer means ordering a new one, costing you time and money. And depending on how long it takes for your new appliance to arrive, you might be stuck without a retainer for some time. That could impact your smile if it takes too long. So keep track of where you put your retainer whenever you take it out to avoid the hassle of getting a replacement.
Store It Properly
What'll help you keep track of your retainer is storing it correctly. Keep your retainer in its case when you aren't wearing it unless you're soaking or cleaning it. The case is made to protect your retainer from damage and help keep it clean, so be sure to use it. You should then store the case somewhere safe to keep it away from curious pets or small kids. Be sure you clean your retainer before you store it, as well, to avoid letting bacteria grow in the case.
No matter how long you take your retainer out for, put it in the case. Even if it's just to have a quick snack, avoid wrapping your retainer in a tissue, napkin or paper towel. Fibers from the paper products can stick to your clear retainer, making it difficult to clean. You also risk someone throwing your retainer away on accident, thinking the paper product is only trash.
Clean the Case
Caring for your retainer doesn't only involve keeping the appliance clean. Because your retainer will spend a lot of time in the case, you should keep that clean, as well. Clean your case after removing your retainer to put in your mouth or soak. Use warm, soapy water to scrub the inside and outside of the container and rinse it in lukewarm or warm water. Pat it dry and avoid filling it with water as that could let more bacteria grow inside.
Maybe you had your retainer case for a while and neglected to clean it the right way. You may have buildup that won't seem to come off no matter how much you try to clean it. If you can't get your retainer case clean, ask your orthodontist for a new one.
Keep Your Retainer Away From Heat
Clear retainers are made of plastic that can warp or become misshapen when exposed to heat. You'll then have to get a new retainer because your damaged one won't fit comfortably in your mouth and do its job. There are many places that could potentially expose your retainer to heat, so avoid:
Sunlight: Always keep your retainer in its case when you aren't wearing it, and try to keep the case out of direct sunlight.
Cars: Especially in the summer, your car will get too hot to store your retainer in. Remember to bring it inside.
Hot water: When you clean your retainer, it's tempting to use the hottest water possible. However, you should use warm or lukewarm to avoid warping the material.
Dishwashers: Don't try to clean your retainer in the dishwasher, which uses hot temperatures to wash and dry items.
Heat sources: Heaters, stoves and other heat sources can warp your retainer. When you remove the appliance, keep it away from those and other hot areas.

Be Careful When Wearing Your Retainer
One of the easiest ways to make retainers last longer is treating them with care, even when you wear them. When you insert, remove and have your retainers in, try not to play with them. Some retainer users are tempted to flip the appliance with their tongue, but that could break it.
You should also avoid wearing retainers while doing physical activity or playing sports, especially contact sports. Taking out your retainer and storing it in its container before playing will ensure you don't damage the appliance. It could fall or get knocked out of your mouth and stepped on as you play, so it's best to leave it out of your mouth. Wear a mouth guard, instead, for certain sports to protect your smile.
Talk to Your Dentist or Orthodontist
There are a lot of ways to take proper care of your clear retainer. Ultimately, the best methods will vary with your specific appliance, your lifestyle and your dental concerns. Your dentist or orthodontist can suggest the best ways to care for your retainer properly. Talk with them and bring up any specific concerns or questions you have. 
How to Clean Clear Retainers
Part of knowing how to make retainers last, especially clear ones, is keeping them clean. Clean retainers will maintain their clear appearance. You'll also remove funk, resulting in retainers with a fresher smell. Follow these tips to cleanse your clear retainer:
1. Use EverSmile Cleaning Products
If you want to take proper care of your clear retainer, choose cleaning solutions from EverSmile. We design cleaners specifically for clear retainers, giving you simple and portable ways to cleanse your trays. And with products that are fast and easy to use, you can ditch the hassle and stress of soaking and brushing your retainer when you're on the go. Choose from these EverSmile products to take proper care of your clear retainer:
WhiteFoam: Clean your clear retainers with this fast, fun and easy-to-use product. WhiteFoam cleanses your retainer in a few minutes while still being gentle on your appliance. And with our hydrogen peroxide formula, WhiteFoam kills 99.999% of bacteria in one minute. All you have to do is pump the product into your trays, spread it evenly over your retainers, put them in and spit out the excess foam. WhiteFoam is safe and convenient to use on your retainers every day.
AlignerFresh: This pocket-sized cleaner is perfect for clear retainers. Use AlignerFresh to remove buildup and freshen your breath. AlignerFresh also whitens your smile over time as you wear your retainers, and it doesn't cause tooth sensitivity. It's perfect to use on-the-go. When you're away from home, it's not always easy to brush or soak your appliances. Instead, you can kill 99.999% of bacteria within 60 seconds simply by spraying AlignerFresh into your retainers. Spread the solution on your trays, put them in and you're ready to go!
2. Don't Use Toothpaste or Stiff Brushes
You might think that since toothpaste is good for your teeth, it should be good for your retainers, too. But toothpaste is an abrasive material with ingredients like chalk or silica. While those are fine for cleaning your teeth, they'd create small scratches all over your retainer. A stiff-bristled brush would do the same. Those scratches create spots for bacteria to grow, developing a funk on your clear retainers. You also risk breaking them if the scratches become too severe.
Luckily, you have plenty of other cleaning solutions you can clean your clear retainers with. You should also use a soft-bristled brush or one meant for dentures. Those brushes won't scratch or damage your retainers when it's time to brush them.
3. Avoid Harsh Chemicals
When you do use cleaning products on your retainers, avoid anything harsh. Strong chemicals could damage the retainer's material, discolor the appliance or leave a bad taste in your mouth when you put the trays back in. Your best option is using a cleaner made specifically with clear retainers in mind, like WhiteFoam or AlignerFresh.
4. Brush Your Retainer Every Day
You clean your teeth every day — hopefully more than once — so you should do the same for your retainer. Get into the habit of cleaning your retainer regularly with a soft-bristle brush. Brushing your retainer helps sweep away plaque and food buildup, which affects your smile and your retainer's quality over time. How often you clean it will depend on how often you remove it. Ideally, you'll clean your retainer every time you take it out, especially if you're going to be storing it.
5. Rinse It When You Remove It
If you can, try to rinse your retainer every time you remove it. That'll make it easier to remove plaque and other funk that's built up later. You should rinse your retainers in lukewarm water until they feel clean, not slimy, and put them in their case if you can't clean them right away.
6. Soak It Once a Week
Choose a retainer soaking solution or cleaner and soak your retainer once a week for a deep-clean. That can make retainers last longer as you effectively kill bacteria all over the retainer's surface, right down to the corners and crevices. Follow your cleaner's instructions as directed to avoid damaging your appliance.
If you don't have a retainer soaking solution on hand, there are other methods you could try. But before you use any homemade cleaners, consult your orthodontist to make sure they won't damage your retainer. Remember to soak your retainer for 15 to 30 minutes in lukewarm, not hot, water for these soaking solutions:
Equal parts alcohol-free mouthwash and water — just avoid using colored mouthwash because it can stain your retainer.
Equal parts distilled white vinegar and water
A few drops of mild dish soap and water
Avoid mouthwash that contains alcohol as that can damage the plastic material of your clear retainer. You also shouldn't soak your retainer in a product like a denture cleaner as that can yellow the material over time. Rinse the cleaning solution off your retainers once they're done soaking to remove any cleaner that was left behind.
7. Get It Professionally Cleaned
Your dentist or orthodontist knows the best ways to clean your clear retainers, and they have equipment and cleaning products that are designed specifically for these appliances. Your dentist or orthodontist may have an ultrasonic cleaner, which does a deep-clean and can help remove stains or similar equipment to take care of your retainer. Schedule a professional cleaning for your clear retainer once or twice a year, depending on your concerns.
Take Care of Your Clear Retainer With EverSmile
Tackle poor retainer hygiene and keep your appliances clear with help from EverSmile! Since 2013, we've created products to clean clear retainers, aligners, braces and other dental appliances. Our mission is to make it easy for everyone to have bright, healthy smiles, and with products like WhiteFoam and AlignerFresh, that goal has become a reality.
Shop our products online, find EverSmile in a store near you or contact us to learn more about how to care for clear retainers!
Reviewed By Michael Florman, Updated on 12/8/21
Liquid error (templates/article line 357): Could not find asset snippets/blog-widgets.liquid