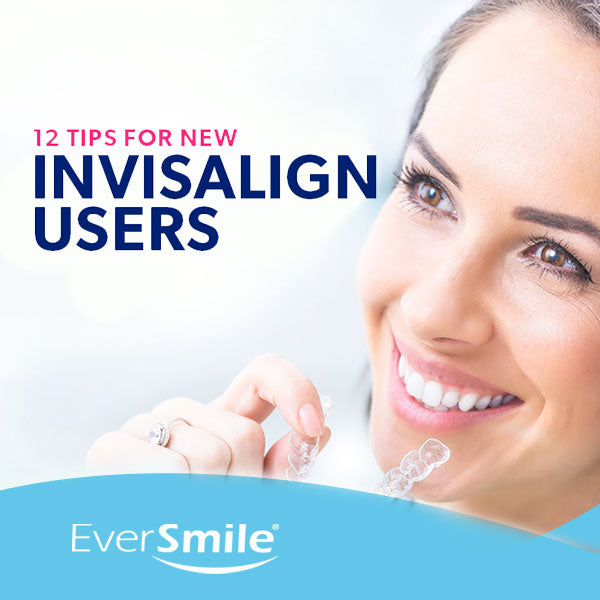 12 Tips for New Invisalign Users
Welcome to the world of Invisalign aligners! You've taken the next step toward straighter teeth and a more confident smile by subscribing to Invisalign treatment. But this is only the beginning. You'll be spending the next several months to a year wearing your aligners, and your life will change a bit because of that commitment. 
Success is right around the corner. If you have questions about how to make Invisalign more comfortable or how to adjust to this new lifestyle, you've come to the right place. The team at EverSmile has created this comprehensive guide for Invisalign tips and tricks as you begin your new journey. With a little discipline and a positive mindset, you can achieve the smile of your dreams. 
What Are the Benefits of Invisalign?
Invisalign aligners have grown in popularity because of their many benefits. Here are some reasons why you should choose Invisalign aligners over traditional braces:
Appearance: Invisalign aligners are invisible to people who are unaware that you're wearing them. You get to experience straighter teeth without the obvious appearance of standard braces.
Convenience: With regular braces, you need to visit the orthodontist for adjustments. When you wear Invisalign, you receive adjustments in the form of new trays every couple of weeks. You won't have to experience any painful visits to the orthodontist for aligner adjustments. 
Comfort: Standard braces have sharp edges, brackets and wires. These can pierce the soft flesh of your mouth, causing aggravation and discomfort. Invisalign aligners are smoother, reducing your level of discomfort throughout the alignment process. 

Some Things to Know About Invisalign Aligners
Invisalign aligners are unlike standard braces in many ways. We've mentioned some benefits, but now, let's take a closer look at some unique aspects of Invisalign:
They're removable: One of the best parts of wearing Invisalign aligners is that you can remove them. While you should wear your aligners as much as possible, it's great to have the option to remove them throughout the day when you need to. But, this can also complicate things, as you'll see later on.
They're made of thermoplastic: Thermoplastic is a material that holds its shape, even in the warm temperatures of your mouth. Your aligners will hold their shape throughout the time you wear them. Thermoplastic is a remarkable material, but you still have to take care of it. 
They're custom made for you: Aligners are not a "one size fits all" type of product. Your orthodontist has inspected your teeth and taken adequate measures to make sure your aligners work for you. Every time you put in a new tray, you know it's exactly what your teeth need to straighten. 
They can still cause pain: Does Invisalign hurt? Invisalign aligners use force to move your teeth. This will cause some pain at first. In time, you'll adjust and become an Invisalign pro.
They require time and patience: It may take a while to see results. Keep at it, and before you know it, you'll look in the mirror and see a straighter smile. All your hard work and efforts will be worth it.

Invisalign Advice: 12 Tips for New Invisalign Users
Now that we've looked at some basic facts about Invisalign aligners, it's time for some Invisalign tips and tricks. If you're wondering how to take care of Invisalign, remember that it comes down to practicing your new routines every day. You may be a little nervous about adjusting your life, but there's no need to worry. If you follow these 12 tips, you'll be on your way toward great results and a healthy, happy smile:
1. Wear Your Aligners
You're spending time, effort and money to straighten your teeth. You chose a more convenient path by investing in clear aligners from Invisalign. Now, you need to wear them. This could seem obvious, but it's easier to neglect this step than you might think. You should wear your aligner trays nearly 24 hours per day, taking them out only to eat, drink and clean them.
As you progress in your aligner regiment, you may lose your urgency to wear your aligners as prescribed. Resist the temptation to take them out whenever you feel like it. This can lead to a lack of progress, and you may have to extend your time wearing aligners. Get in the habit early and keep those aligners in. 
2. Change Trays on Time
Every two weeks or so, you'll start wearing new aligner trays. The new trays help your teeth straighten a bit more than the previous ones. By the time you're wearing your last trays, you'll have a completely new smile than when you started. To achieve this, you'll need to change your trays on time.
Your orthodontist has you on a schedule to maintain steady progress. There's a projected end-date, although it's not a guarantee. Many people need an extra tray or two to put the finishing touches on their progress. Still, you should change your trays on time to keep up the pace and aim for your projected end-date. 
3. Keep Your Previous Tray on Hand
Some people toss their old aligners into the trash when they move on to the next ones. After two weeks of wearing the same aligners, everyone is ready for a fresh pair. Now imagine a situation when someone loses their current aligners before receiving their next trays. How will they keep up their progress and reduce their chances of backsliding?
If this person had kept their previous trays on hand, they'd be in much better shape. Avoid this situation by saving last week's aligners in case you lose or damage your current ones. You'll protect your progress by wearing the old trays as you wait for your orthodontist to replace your current pair. Jumping to the next trays too early could be painful for your teeth, so wear your old aligners if you lose your current ones. 
4. Practice Good Oral Hygiene
Wearing aligners increases your chances of letting harmful bacteria build up in your mouth. This sounds scary, but there's an easy way to combat this — keep practicing your regular dental hygiene habits. Your existing habits will go a long way in keeping your mouth healthy and clean. You can even take it a step further with renewed dedication. Brushing and flossing your teeth after every meal or snack is crucial in having a clean mouth. This leads to cleaner aligners and less harmful bacteria. 
5. Use EverSmile WhiteFoam to Clean Your Aligners
Looking to take your dental hygiene to the next level during your Invisalign treatment? WhiteFoam by EverSmile could change the way you approach your dental health while wearing aligners. Clear aligners can be hard to keep fresh. They can develop a bad smell and show visible signs of funk, making them not so invisible anymore. With WhiteFoam, you can change that. Your friends wearing clear aligners might even wonder how you keep yours so clean.
WhiteFoam is a hydrogen peroxide-based solution that makes cleaning aligners convenient. Apply the foam to the inside of your aligners and put them on your teeth. That's it! WhiteFoam will clean your aligners while freshening your breath and whitening your teeth. That's three incredible benefits in one. And if you need some extra cleaning power, put your aligners in a cup and soak them with WhiteFoam for five minutes or so. They'll be fresh and clean when you're ready to wear them again. 
6. Avoid Using Toothpaste and Mouthwash to Clean Your Aligners
Toothpaste and mouthwash are common items in many people's bathrooms. These products are great for cleaning teeth, but you should avoid them when it's time to clean your clear aligners. Toothpaste contains tiny abrasive particles that will scratch thermoplastic. Your toothbrush bristles will make these scratches worse. This could change your clear aligners from being invisible to being cloudy and noticeable.
You should also avoid soaking your clear aligners in mouthwash. Mouthwash contains dyes and colorants that risk staining your aligners. This will change your Invisalign aligners from clear to purple, green or blue. That's the exact opposite effect you're looking for when you choose clear aligners to straighten your teeth. 
7. Remove Your Aligners Before Eating and Drinking
Eating and drinking while wearing Invisalign would be an uncomfortable experience. Still, it's good to remember to take your aligners out before engaging in either activity. Eating with your Invisalign is a bacterial buildup waiting to happen. It will lead to bad breath and food trapped in your aligners. 
Drinking water while wearing aligners is fine. In fact, it can help rinse your aligners, leading to a cleaner mouth. But drinking coffee, tea, soda and other dark beverages will stain your aligners over time. To keep your aligners looking great, take them out during your morning coffee or your afternoon pick-me-up. 
8. Rinse Regularly
An easy task to practice as a new Invisalign user is to rinse your aligners throughout the day. If you find yourself at a sink, it will only take a moment to pop out your trays and give them a quick rinse. This will remove any lingering particles that could contribute to bad breath, discoloration and funk. Get in the habit of rinsing your aligners any time you take them out during the day to keep them fresh.
9. Protect Your Aligners When Not in Use
We've mentioned a few instances where it's a good idea to take your aligner trays out. After all, one of the reasons you chose Invisalign aligners is the convenience of removing them. But you'll have to be careful during these situations. You'll learn soon enough that it's easy to misplace your trays once they leave your mouth.
Keeping your trays in a napkin when out of your mouth is a huge mistake. One wrong move or a single moment of forgetfulness could lead to them landing in the wastebasket. You then risk paying for replacement aligners and ruining your teeth-straightening progress. Keep a hard case on hand to hold your aligners when you take them out. This will protect them from sustaining damage and being accidentally thrown away. 
10. Protect Your Mouth and Limit Invisalign Pain
Clear aligners from Invisalign could occasionally have sharp edges or rough areas of plastic. This may be uncommon, but it's still distracting and even painful to experience. If you've already experienced this discomfort, you may be wondering how to make Invisalign more comfortable. Try applying a small amount of wax to the problem areas. This will protect the insides of your mouth for a while, but you may have to put more wax on throughout the day. 
You may also experience tooth pain when wearing new trays. When you put new aligners in for the first time, try biting down several times to break them in. This will help your teeth adjust to the new trays. It can even reduce the pain from new aligner pressure by getting the blood flowing in your gums.
You could take this a step further by trying orthodontic chewies like OrthoChews from EverSmile. These chewies can reduce Invisalign pain by putting some pressure on your teeth and massaging sore gums. Over time, you'll grow familiar with the pain and it will be more tolerable. Help yourself experience less discomfort with OrthoChews. 
11. Use AlignerFresh for On-The-Go Cleaning
When you're out running errands, attending class, going to work or hanging with friends, you may not have time to clean your aligners. This can lead to your aligners getting smelly and funky in the situations when you least want them to. You got Invisalign aligners to increase your confidence, and these moments can have the opposite effect. 
AlignerFresh from EverSmile is the solution to this problem. EverSmile made this product to be portable and safe to take on the go, and it's super easy to use. Take your aligner trays out, give them a spray and put them back in. AlignerFresh will get to work immediately, providing the same benefits as EverSmile's WhiteFoam. Smelly, funky aligners will make their exit when you make AlignerFresh a part of your daily life. 
12. Wear Your Retainer When You Finish Treatment
When you've completed your Invisalign aligner treatment, you'll need retainers to keep your teeth in place. Otherwise, your teeth could shift back to their previous positions. Make sure you preserve the result of all your hard work, money and dedication by wearing your retainers as long as you can. You should wear them for the rest of your life. 
Keep your final trays to act as backup retainers. If something happens to your retainers, you can use your final trays until you get replacements. Remember, after all your hard work, the last thing you want is for your teeth to shift back. Wear your retainers to keep your teeth looking great for years to come. 
Enhance Your Invisalign Experience With EverSmile WhiteFoam and AlignerFresh
Find success in your journey with Invisalign aligners by using EverSmile's dental hygiene products. Our founder was a leading Invisalign provider when he realized his patients needed a new product to keep their trays fresh and clean. He got to work, and WhiteFoam by EverSmile was born. WhiteFoam has changed the way Invisalign users keep their aligner trays clean. And now, with AlignerFresh by EverSmile, you can take that cleaning power on the go. Your breath will be fresh and your aligners will stay clean all day long. 
Check out our full list of products to find more ways we can enhance your dental hygiene routine. Stay up to date on the latest news and tips by reading our blog. And thank you for choosing EverSmile!
Reviewed By Michael Florman, Updated on 12/8/21
Liquid error (templates/article line 357): Could not find asset snippets/blog-widgets.liquid