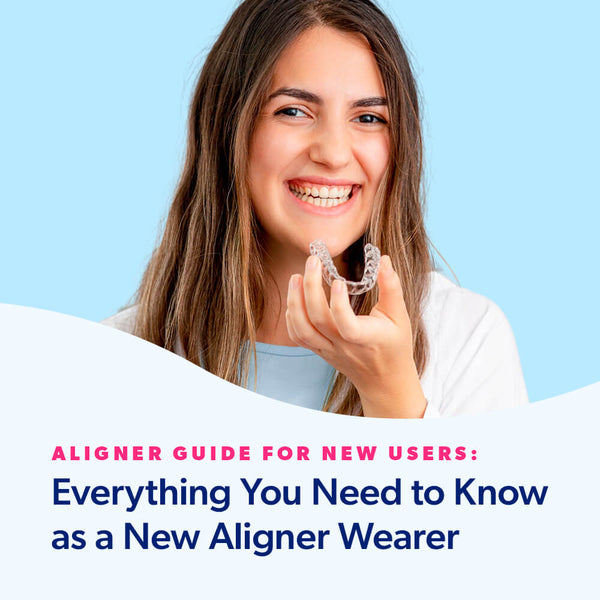 Aligner Guide for New Users: Everything You Need to Know as a New Aligner Wearer
Clear aligners have emerged as an exciting alternative to traditional braces. Brands such as Invisalign offer the benefits of straighter teeth with the addition of a discreet appearance to fit any lifestyle. You can enjoy more freedom when wearing clear aligners, and you can smile confidently in a crowd without anyone noticing you're wearing your trays. 
But you need to know the correct way to wear and care for your aligners as you begin your new treatment. Use this new aligner user guide to help you navigate this lifestyle. With the right practices from this teeth aligners guide, you can enjoy your experience and show off your new, straighter smile before you know it. 
Guide to Wearing Aligners
First, let's review some answers to commonly asked questions for people beginning their clear aligner journey. We'll explain some of the foundational elements of wearing clear aligners, so you can understand more about what you're getting into. 
Do Teeth Aligners Actually Work?
Teeth aligners straighten your teeth by exerting small amounts of force on your teeth over an extended period. As the days go by, your trays incrementally move your teeth into a slightly straighter position. Your aligner manufacturer designs each tray to move your teeth a little bit more than the last. The goal is to have the straight smile you've been dreaming of by the end of your clear aligner treatment. 
You may start noticing a difference in your appearance within a couple of months of starting your treatment. Once you see these results, you'll know your trays are working. You can also go for routine checkups with your dentist or orthodontist to make sure your progress is going well and make any adjustments if necessary. 
How Do You Wear Aligners?
Aligner trays fit into your mouth by snugly covering your teeth. Use your fingers to apply slight upward or downward pressure on your aligners to get them to fit into place. Once secured, your aligners should stay in place until you gently remove them. 
A dentist or orthodontist can ensure a secure fit by taking molds or scans of your teeth before beginning your treatment. Your clear aligner tray provider will make sure to get an accurate image of your mouth so they can create custom aligners that are unique to your needs. That way, they will fit in your mouth while making your teeth straighter, one set of trays at a time. 
How Long Is the Process?
The aligner process is different for every user, depending on their needs and the severity of their crowding or spacing. The road to getting straighter teeth could be longer for people with more extensive straightening needs. On average, you can expect the aligner process to last for around 12 months. The least severe cases may only need six months, while the most severe cases could take up to two years to correct. But, depending on your needs, the length of your process can fall anywhere in those ranges. 
How Long Do You Have to Wear Aligners Per Day?
You should wear your clear aligners for at least 22 hours per day. Only remove your aligners during meals and when it's time to clean them. Besides those specific instances, it's paramount that you wear your aligners for the recommended 22 hours per day. 
Failing to wear your aligners for the recommended time per day can result in a longer treatment period. Your teeth could stay crooked and your progress could come to a standstill. Wear your aligners for at least 22 hours every day for the best results.
Can You Sleep While Wearing Clear Aligners?
Yes, you can sleep with aligners during your treatment period — indeed, it's a best practice. Sleeping is one of the best times to wear your clear aligners. If you sleep eight hours every day, wearing your aligners when you sleep helps you knock off that much time from your recommended 22 hours per day. And since your aligners have a snug fit on your teeth, you can wear them with confidence, knowing they will stay in place during the night as you sleep. 
Some companies offer aligner trays specifically made to wear at night. Find the right style of aligner trays for your needs, but know that wearing your trays at night is always a safe and beneficial activity. 
Do Teeth Aligners Hurt?
You may experience some discomfort when starting your clear aligner treatment. Your aligners' purpose is to push your teeth into a straighter position. This action could cause some tenderness of your gums and teeth as they learn to adjust. In time, your mouth will adapt, causing the pain to go away. 
Moving on to the next set of trays could also lead to some sensitivity of your teeth and gums. Each tray moves your teeth a little bit more than the last, which might cause the discomfort to return. In a few days, the tenderness should subside as you grow familiar with the sensation. For lingering discomfort, try EverSmile's OrthoChews — the perfect solution for lessening the pain caused by new aligners. 
Guide to Cleaning Your Aligners
Cleaning your aligners is a crucial part of the aligner experience. In this part of our invisible aligner guide, we'll take a closer look at how you should care for your aligners to have the best experience possible. 
How Often Should You Clean Your Aligners?
You should clean your aligners at least twice per day — once when you wake up and again before you go to bed. When you sleep, your mouth harbors more bacteria, which can cling to your aligner trays. You'll want to remove these bacteria before beginning your day to help keep your mouth and your aligner trays cleaner. 
Cleaning your trays before you go to bed is also crucial. Food particles and bacteria can cling to your teeth from your everyday activities, and these particles can make their way to your aligner trays. Taking the time to remove any buildup from your aligners before bed will help your mouth stay clean and healthy. 
The Mayo Clinic recommends brushing your teeth twice per day, and many people choose to do this before bed and after they wake up. You can add a few minutes to these teeth-brushing sessions to clean your aligners, too. It will take a little bit of discipline to familiarize yourself with the new routine, but it's essential if you want to keep your aligners clear, clean and fresh. 
Best Methods for Cleaning Aligners
Here are some of the best methods for cleaning your aligners.
Use EverSmile dental hygiene products: EverSmile offers excellent products to keep your clear aligners clean and make the whole process easier. EverSmile's WhiteFoam clear aligner treatment is a hydrogen peroxide-based solution you apply to your aligners before reinserting them. The WhiteFoam cleans your trays as you wear them while freshening your breath and even whitening your teeth! And for a more portable option, try EverSmile's Alignerfresh, with its easy-to-use spray bottle that fits right in your pocket, gym bag or purse. Both choices make cleaning your aligners easier and more enjoyable than ever. 
Gentle scrubbing with a soft-bristled toothbrush: If your aligner trays start accumulating plaque and other types of funk, you can use a dedicated, soft-bristled toothbrush and lukewarm water to lightly scrub them. Make sure to use minimal force, as hard scrubbing can scratch the aligners and make them appear more noticeable. Soaking and rinsing are the preferred methods for cleaning aligners, but a light brushing with a soft-bristled toothbrush can also be beneficial. 
Soap and water: Soap and water is a tried-and-true method for cleaning many surfaces, including your clear aligner trays. First, mix a small amount of fragrance-free dish soap with lukewarm water. Let your aligners soak in the sudsy solution for around a half-hour. Then, remove your aligners from the solution and rinse with fresh lukewarm water. You can also use a soft-bristled toothbrush to ensure you're getting every bit of soap off your aligners as you rinse. 
Baking soda and water: When you want to give your aligner trays some extra cleaning power, you can use baking soda and water. Start by mixing a tablespoon of baking soda with a half cup of lukewarm water until the baking soda has dissolved. Then, submerge your aligners in the solution and let them soak for about an hour. This process will help sterilize your aligners and prepare them for a thorough rinse and gentle brush after soaking for an hour. 
Hydrogen peroxide and water: Hydrogen peroxide has a reputation for being a potent, safe germ killer, making it a staple in many first-aid kits worldwide. You can use hydrogen peroxide and water to clean your clear aligner trays as well. First, mix equal parts hydrogen peroxide and water. Then add your aligners to the solution, letting them soak for up to 30 minutes. Afterward, rinse off your aligners and gently scrub with a soft-bristled toothbrush to remove the taste of the hydrogen peroxide when you reinsert them. 
What to Avoid When Cleaning Your Aligners
You should be careful when cleaning your aligners because the wrong practices can lead to unfortunate results. Here are a few items you should avoid when cleaning your clear aligners.
Toothpaste: It may seem like the logical choice to scrub your aligners with the same products you use to clean your teeth, but you should never use toothpaste in your daily aligner care routine. Toothpaste contains small abrasive particles that are excellent for removing plaque from your teeth. But these same particles can inflict damage to your aligners, causing scratches and scrapes that could make your clear aligners appear cloudy. Cloudy aligners are more visible to observers, defeating their discreet nature. Preserve the invisible quality of your clear aligners by using one of the above cleaning methods instead of toothpaste. 
Hot water: When cleaning your aligners, you should use water at lukewarm levels or colder. Though warmer water is ideal for washing your hands or the dishes in your sink, it can damage your aligners. Clear aligners consist of a special type of plastic designed to move your teeth, but it can melt and morph when exposed to higher temperatures. Keep your aligners away from hot water to preserve their unique shape. Trying to wear a warped aligner could cause problems for your treatment progress. 
Mouthwash: Mouthwash contains dyes that can stain your clear aligners. If you want extra cleaning power, try using WhiteFoam or one of the other methods listed above. Staining your aligners with mouthwash will make them noticeable in your mouth, ruining their invisibility factor. Mouthwash kills germs and fights bad breath when you swish it around your teeth, but you should keep it far away from your aligners. 
Colored or scented soaps: Colored or scented soaps can also be harmful to your aligners and ruin your experience with them. Colored soaps run the same risk as soaking your aligners in mouthwash — they can stain your aligners, causing people to notice them in your mouth while you're wearing them. Scented soaps can leave behind strong odors or flavors, making wearing your aligners unpleasant. You want a neutral or minty taste in your mouth while wearing your aligners. Avoid the unwanted tastes of scented soaps by using unscented, mild dish soap instead. 
Best Practices When Wearing Clear Aligners
We've all done things at one point in our lives and later thought, "I wish someone had given me advice before I did that!" Well, here's the advice you've been looking for as you start your journey with clear aligners. Read on to learn some of the best practices you can follow to get the most out of your clear aligners. With these tips, you can keep your aligners fresh and avoid mistakes that could hinder your progress. 
1. Keep Track of Your Trays After Removing Them
One of the most common mistakes new users make is losing their aligners after taking them out. As you read above, wearing your aligners for the recommended 22 hours per day is crucial to keeping on schedule. Misplacing your aligners for a few days or even a few hours could set you back. Make it a point now to keep track of your aligners after removing them so you can stay on target. 
One of the best ways to know where your aligner trays are is to always put them in their case when you take them out. That way, you'll know they are safe and secure in your pocket or wherever else you'd typically keep them. Many people wrap their trays in a napkin or tissue after removal, which often leads to accidentally throwing the aligners away. Use your provided aligner case when removing your trays instead. 
2. Bring Your Next Set of Trays With You When Traveling — and Wait to Throw Away Your Previous Pair
If you're planning on taking a vacation or an extended trip, you should take your next set of trays with you. Doing this will allow you to switch trays if that day falls within your trip's dates, but it will also prepare you if you end up experiencing a canceled flight or another event that will keep you from home longer than you expected. By bringing your next set of trays, you'll be ready for whatever life throws at you. 
You should also wait to throw away your previous trays when you move on to the next set. If you happen to lose or damage your current trays, you can temporarily use your former ones while you wait for a replacement set. Call your aligner provider right away if something happens to your current trays, and wear your former set to minimize a loss of progress in the meantime. 
3. Always Remove Your Aligners When Eating or Drinking
From your very first day wearing aligners, you should get into the habit of removing them every time you eat or drink anything besides water. Water is a natural aligner cleaner, so it is safe to drink it when wearing your aligners. But you should avoid every other food or beverage without taking your aligners out first. 
Dark beverages like coffee, tea, soda and fruit punch can all stain your aligners. Plus, the high temperatures of beverages like coffee and tea can warp your aligners' thin plastic. Food is also harmful to your aligners because particles can stick to your trays, leading to plaque buildup and an unpleasant smell. Aligners cannot withstand the force of chewing and can suffer damage if you try eating with them in your mouth. Keep your aligner case nearby and remember to remove your trays before eating and drinking. 
4. Avoid Leaving Your Aligners out to Dry
When taking your aligners out, you should keep them in their case or submerged in water in an unmistakable cup. This habit will keep them safe and sanitary while you're eating, drinking or brushing your teeth. Leaving them out in the open air can lead to undesirable results. 
When you let your retainers dry in the air after taking them out, bacteria from your mouth can dry on them, leading to plaque buildup. Bacteria from the air can also settle on your aligners, making them even more unsanitary to reinsert. The bacteria can cause your aligners to smell funky, look discolored and even cause you to get sick. Instead, keep your aligners safe in their case or in a cup filled with water. 
5. Rinse Your Aligners With Water Throughout the Day
Another best practice you can turn into a habit is rinsing your aligners with water every time you take them out of your mouth. Running water over your aligners does a lot of good, including the following:
Dislodges and removes food particles from your aligners
Rinses away bacteria that cling to your aligners
Helps your aligners keep their clear appearance
Helps your aligners smell better throughout the day
So whether you're eating, drinking or cleaning your teeth, use the opportunity to rinse your aligners. You can even get into the habit of rinsing them out several times between meals for even more aligner freshness. 
The Best Clear Aligner Brands
If you still have to make your decision on which clear aligner brand to go with, here are a few top-rated suggestions.
Invisalign: Invisalign was one of the first clear aligner companies to hit the scene, leading to an explosion of popularity. Today, most people associate the name "Invisalign" with clear aligners in general. If you want a trusted name in the industry with broad dentist and orthodontist support, Invisalign aligners could be your top choice. 
Smile Direct Club: Smile Direct Club is another well-known aligner brand, and it is also one of the most accessible. Smile Direct Club has physical locations called SmileShops, where you can get your teeth scanned to start your aligner journey. You can also start the process at one of many Smile Direct Club partner dentists around the United States. 
Byte: Byte is newer to the clear aligner business than the other brands on this list, but they've earned a positive reputation in the aligner community. They're one of the most affordable options available, making them perfect if you're looking for a budget-friendly option for straightening your teeth. 
Candid: Candid is one of the more expensive options, but the high price comes with several benefits that may be worth it to you. One distinct advantage is that Candid works with orthodontists instead of general dentists to help you achieve the best and most personalized results. You'll enjoy virtual meetings with an orthodontist who can support your progress every step of the way. If you want high-quality, customized treatment, Candid could be the option for you. 
Use EverSmile Products to Enhance Your Dental Hygiene With Aligners
Start your aligner journey the right way with EverSmile's full line of products. Our founder came onto the aligner hygiene scene when he worked as an Invisalign provider in 2013. He noticed people lacked a quick, convenient way to keep their aligners clean all day long, and from that idea, WhiteFoam from EverSmile was born. From there, we have developed even more high-quality products to make your dental hygiene easier. 
Contact us online today to learn more about how our products can benefit you as you start using clear aligners. And make sure to keep up with our blog for the latest dental hygiene tips and information. 
Liquid error (templates/article line 357): Could not find asset snippets/blog-widgets.liquid