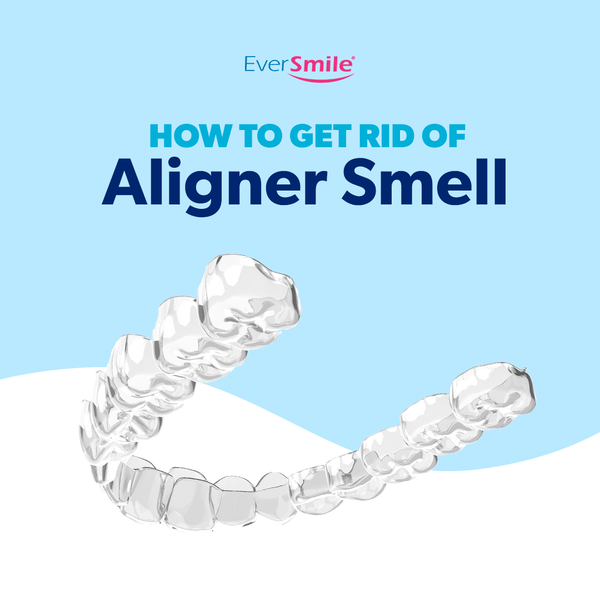 How to Get Rid of Aligner Smell
As a user of clear plastic aligners, you care about your teeth, and you want your smile to look great. The clear plastic makes the process discreet so you can wear your aligners with confidence while hanging out with friends and family or meeting people for the first time.
You might start feeling a little less confident if your aligners start to produce an unpleasant odor. Why do your aligners smell? To help you answer this question and to learn how to prevent aligners from smelling, here's a look at how your dental hygiene practices affect how your Invisalign aligners smell. 
Common Experiences When Wearing Aligners
You chose clear plastic aligners because they're virtually invisible and less invasive than braces. Clear aligners get the job done and keep your smile looking good in the process, but there are some negative experiences you might encounter while using them. You may have prepared for some of them. Other side effects might be more unexpected.
Mouth Pain
Mouth pain is the most common negative side effect of wearing clear aligners. Even though they're clear and discreet, you still might feel soreness as they shift your teeth from their original positions. Having a sore mouth can be distracting, especially during the first few days of wearing a new tray. Over time, you may get more accustomed to the feeling, but it's still something that you need to deal with when you wear clear aligners. 
Even after the pain goes away, wearing aligners can be uncomfortable. Having something fitted around your teeth in such a tight way can feel weird, especially when you first start wearing clear aligners. The plastic of the aligners sits behind your lips, which might make you feel like your facial expression is different. It can also affect your speech, especially your "s" and "th" sounds. As time goes on, you may be able to overcome these issues, but some may stick around longer than you'd like. 
Bad Smell
Another common experience when wearing aligners is a bad smell. Your aligners might smell like nothing when you first put in new trays. After a few days, however, you may be able to detect a slight smell. As you near the end of your time with those particular trays, you're probably ready to get rid of them and move on to a fresh pair. This bad odor can be unpleasant for you and the people around you, which is a problem you definitely want to avoid. 
Unlike other aligner issues, you have control over how bad your aligner smells — or if it smells at all. It goes back to your practicing of proper dental hygiene. The more meticulous you are with your cleaning routine, the less of a chance there is of your aligners smelling. To understand the relationship between your dental hygiene and the smell of your aligners, you should understand what makes aligners smell bad in the first place. 
What Makes Aligners Smell Bad?
Clear aligners smell fresh out of the box, but before long, they can get funky. All that time in your mouth has an impact on the plastic material of your aligners. They can start giving off an unpleasant odor. You could brush your teeth multiple times a day, use mouthwash and take other dental precautions and still find yourself with bad-smelling aligners. How is this possible? 
It's easy for clear aligners to start smelling bad because of how they work. Aligners press tightly against your teeth. This is how they apply pressure to your teeth to move them to their final position — a straight and attractive smile. But as the aligners press against your teeth, they trap anything that might have been on your teeth or in your aligner against your teeth. This opens the door to a whole host of dental issues.
Your saliva is your mouth's natural cleaning agent. Saliva dissolves particles and rinses your teeth throughout the day. When you're wearing clear aligners, your saliva is unable to carry out its job on your covered teeth. Trapped particles will stay where they are, and your saliva will be ineffective at reaching them. Bacteria can grow more easily on your teeth if they are dry, so lack of proper saliva flow is problematic.
Here are some of the issues you can experience as a result of trapped particles against your teeth with no saliva to wash them away:
Cavities
Gingivitis
Plaque buildup
Tartar
Bacterial growth
Bad breath
These issues affect one another. For instance, if plaque is building up on your teeth, you may start to detect a bad smell on your breath and your aligners. You need comprehensive oral care to keep these issues at bay when using clear aligners. There are some signs you can keep a watch for that will let you know bad bacteria is growing on your aligners, contributing to a bad aligner smell. 
Common Signs of Bacterial Growth on Aligners
If you let the bacteria in your mouth and on your aligners continue to grow without proper cleaning, you'll be able to see and smell the results. While it's helpful that bacteria growth includes noticeable signs, the signs are rather unpleasant to experience and deal with. No one wants to suffer through a smelly aligner to know they have a case of bacterial buildup they need to deal with.
Another common sign of bacterial growth on aligners is plaque buildup. Plaque is a film that grows on your teeth as a result of the bacteria in your mouth combining with the starchy or sugary foods that you consume. Some of these starches and sugars continue to cling to your teeth after you're finished eating. If these particles mix with the bacteria in your mouth, a noticeable, pale yellow film of plaque starts developing on your teeth.
Plaque can transfer from your teeth to your clear aligner trays because of the tight fit of your aligners. If this happens, you'll notice your aligners will change from clear to cloudy or even yellow as the days pass. Your aligners will become much more noticeable and make your teeth look like they have yellowish stains on them. One reason you chose clear aligners in the first place was to be discreet, and the bacterial buildup of plaque on your aligners can have the opposite result.
If you start seeing or smelling the signs of bacteria on your aligners, then it's time to start cleaning and committing to a new dental hygiene gameplan. Keeping your aligners from smelling takes daily work, but it is worth it to maintain a fresh smile and clean aligner trays.
How to Get Rid of a Bad Smell on Your Aligners
You wear your aligner trays for weeks at a time before switching to the next trays on your schedule, and you likely need to wear your aligners for most of the day. Otherwise, you risk diminishing the teeth-straightening progress you've worked so hard to achieve. But it's difficult to feel confident and at ease, if you can smell your aligners while you're wearing them. 
Here are some ways you can get rid of the bad smell on your aligners. Give them a try, and see which works best for you.
1. Use an Aligner Cleaning Product
Aligner cleaning products are solutions you apply to your aligners to keep them looking and smelling fresh. While it's helpful to know the product will get the job done, finding time to use it is a different story. Taking your aligners out to clean them throughout the day can be unrealistic. You lead a busy life, and one reason you chose clear aligners over braces was for convenience. Dropping what you're doing to wash your aligner might not always be a part of the agenda. 
WhiteFoam by EverSmile is an aligner cleaning product that is changing the way people experience teeth alignment. With WhiteFoam, you can go about your day without taking a pit stop to the nearest bathroom to rinse and wash your aligners. Simply apply WhiteFoam to the inside of your aligners and spread it evenly. Then, insert your aligners onto your teeth. The tight fit allows WhiteFoam to clean your aligners, whiten your teeth and freshen your breath all at the same time. 
WhiteFoam can help you keep your aligners smelling minty fresh all day long. It easily fits in your purse, pocket or glove box. Keep it on hand, and great smelling aligners are only a pump away. 
2. Try Safe Cleaning Methods
When you have a few minutes to spare, you can try some other cleaning methods to remove plaque, bacteria and bad smells from your aligner. Here are a few methods that work using items you may already have in your home:
Dish soap and water: In a stainless steel container, combine warm water with mild dish soap and mix until suds start forming. Place your aligners in this solution and let them soak for a half-hour to an hour. This should remove some of the funk from your aligners. Make sure to rinse them under cool running water after soaking to avoid tasting soap in your mouth. Let the aligners dry before putting them back in your mouth. 
White vinegar and water: Vinegar has natural cleaning properties that can dissolve plaque and neutralize odors. Balance vinegar and water at a 1:4 ratio and let your aligners sit in the mixture for a half hour or less. Then rinse off your aligners, let them dry and put them back onto your teeth.
Baking soda and water: Baking soda can aid in killing harmful bacterias and sanitizing the delicate surfaces of your aligners. A tablespoon of baking soda mixed with a half cup of water should do the trick. Rest your aligners in this solution and let them soak for up to an hour. Then, rinse your aligners off and let them dry. Your cleaner, fresher-smelling aligners will be ready for you to use.
3. Replace Your Aligners
Depending on how far along you are with your current aligners, you may be able to get rid of the bad smell by disposing of your current aligner trays. You'll wear each set of aligners for a few weeks at a time. By the end of that period, your aligners might smell funky, especially if you forgot to use WhiteFoam or the other cleaning methods to keep the unpleasant odor away. If you can wait until it's time to change aligners, then that will solve your smell issue. 
Once you start using your new aligner trays, use the above cleaning methods to prevent the bad smell from coming back. If you start practicing the cleaning methods with new aligners, you'll have an easier time keeping your aligners smelling fresh and looking clean and clear. 
How to Prevent a Bad Smell on Your Aligners
Use the following tips to help prevent a bad smell on your Invisalign aligners:
Rinse your aligners after each use: This helps to ensure no particles linger on your aligners after wearing them. When you put your aligners back in, you'll want to avoid trapping particles against your teeth, as this can contribute to cavities and bad breath.
Take out your aligners when eating: It's hard to eat with aligners in, but you still might forget to take them out before taking the first bite of your meal. Rinse and clean your retainers if this happens. Food and aligners are a bad smell waiting to happen. 
Brush and floss your teeth after eating and before wearing your aligners: Caring for your teeth should be a part of your daily life. Not only is it good for your health, but it aids in keeping your aligners looking and smelling fresh. Brushing and flossing after eating and before wearing aligners helps your aligners make clean contact with your teeth. For an added bonus, use some WhiteFoam on your aligners before inserting them. 

Keep Your Aligners Smelling Fresh With WhiteFoam
Smelly aligners can be a thing of the past with WhiteFoam from EverSmile. WhiteFoam works to clean your aligners and whiten your teeth, and its minty fresh taste makes your breath smell fresh. It's easy to use and can help you feel confident all day long. 
Buy WhiteFoam online today or ask about it at your local pharmacy to see how it can change your approach to dental hygiene. Be sure to check out our other dental health products as well.
Give it a try today and see how WhiteFoam can help you enhance the look and smell of your smile today and every day. Make sure to check out our blog to stay up-to-date on the latest aligner and oral hygiene trends!
Reviewed By Michael Florman, Updated on 12/8/21
Liquid error (templates/article line 357): Could not find asset snippets/blog-widgets.liquid