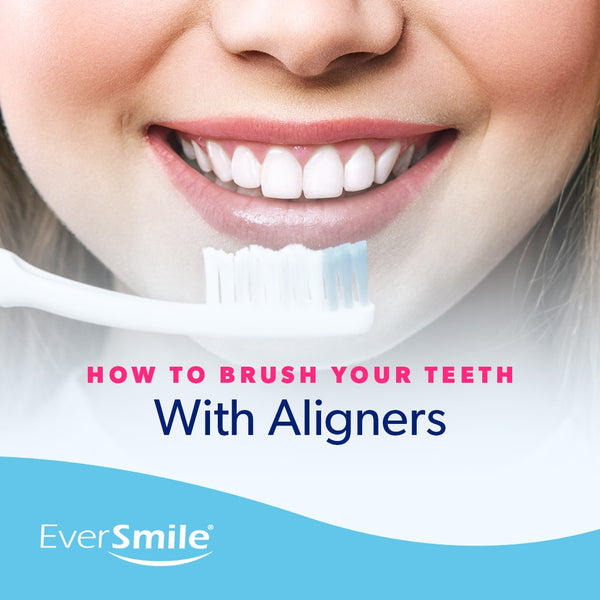 How to Brush Your Teeth With Aligners
Clear aligners are convenient and discreet ways to help straighten your smile. You can remove them whenever you need to, and they're more comfortable than traditional metal braces.
It's essential to take care of your teeth, and while making sure they're straight is one way to care for your smile, it's best to practice overall great dental hygiene. It's essential to keep your teeth clean while using aligners.
Brushing your teeth is an obvious rule in dental hygiene, but it's important to keep both your teeth and aligners clean to prevent any buildup or funk. Food is a significant factor in getting your trays dirty, but do you have to brush your teeth every time you eat with aligners? Learn the answer to that and other aligner care questions below.
How Many Times Should You Brush Your Teeth With Aligners?
Keeping up with your dental hygiene is crucial with clear aligners. If you wear these devices, you should be brushing your teeth every morning and night. Twice a day is ideal, but you might also brush after all snacks and meals. Trays can trap bacteria if you don't clean them properly. Luckily, while you should wear your aligners for at least 22 hours throughout the day, you can remove them when you need to.
Remember to remove your trays when you're eating or drinking anything other than water. After taking out your aligners and eating your food, brush your teeth before placing the trays back inside your mouth. Food can build up in these devices, creating dirty, funky trays. Even drinking coffee might seem harmless but can lead to stains in the future if you don't take care of the aligners and your teeth properly. 
Sometimes, cleaning your teeth and aligners while you're out and about can be inconvenient. It's important to clean your trays and teeth after eating, and you can accomplish this by using an aligner cleaner. Use AlignerFresh to clean your clear trays after eating on the go. AlignerFresh by EverSmile is an easy solution to freshen your devices while you're out and prevent bad breath and stains on your trays.
Can You Brush Your Teeth Too Much With Aligners?
People learn the importance of teeth brushing at a young age. As you get older, you learn dental hygiene affects many aspects of your health and that keeping your mouth healthy is an essential goal.
It's best to know how often you should brush your teeth with aligners. You know you should clean your teeth after every meal before you put your trays back in your mouth. But when do you cross the line into overbrushing your teeth?
Overbrushing your teeth with aligners becomes an issue mainly based on how you brush. When you do brush your teeth, you should be careful to avoid:
Brushing too aggressively: Since you need to brush your teeth before you put your aligners back in, you want to get the job done quickly. If you brush too fast, you might brush your teeth harder. Aggressive brushing can hurt your gums or be too vigorous on the surface of your teeth. Use a soft brush and go in small, gentle circles when you brush your teeth, taking the time to reach every area of your mouth.
Brushing too soon after acidic foods or drinks: Our teeth have enamel shielding them from acidic foods and intense temperatures. Acidic food can throw off the pH balance in your mouth, making the enamel weaker. When you brush after the acidic food weakens your teeth, you can damage the enamel. To prevent this, drink plenty of water and rinse out your mouth before brushing your teeth. Try to wait at least an hour before brushing your teeth and putting your trays back in if you can.
Overall, stick to brushing your teeth at least twice a day. If you eat often throughout the day, you might consider rinsing your mouth before putting your trays back in.
How to Care for Your Aligners
Practicing proper aligner care can positively impact your overall treatment process. Just as regularly brushing your teeth is critical for dental hygiene, so is cleaning your trays. If you forget to clean your aligners properly, they can develop unpleasant funk and stains.
Use these cleaning methods to clean your aligners effectively:
WhiteFoam by EverSmile:WhiteFoam is an amazing option for people who want to continue their busy days without waiting for their aligners to soak for a long time. You can either apply the WhiteFoam to your aligner and place the device back inside your mouth or soak the trays for a few minutes before putting them back in. Use WhiteFoam to remove buildup and stains from aligners and whiten your teeth.
White vinegar and baking soda: Use white vinegar and baking soda in warm water to soak your clear aligners. This method is a popular way to clean trays because most people have these items in their homes. 
Dish soap and water: Mix gentle dish soap and warm water and soak your trays to clean. After you are done soaking your devices, rinse them thoroughly with water, and they are ready for you to wear.
Using these cleaning treatments along with brushing your teeth after meals and beverages can help keep your aligner trays clean and prevent bacteria from growing.
How Not to Care for Your Aligners
When you clean your aligners, you should avoid certain methods that can damage them. Do not use the following cleaning methods on your trays:
Mouthwash: Don't soak your devices in mouthwash. The coloring can stain your clear aligners, and the alcohol can dry out the trays.
A regular toothbrush: While you should brush your teeth, doing the same to your aligners with a regular toothbrush can scratch and damage the trays, giving bacteria a place to grow. If you do brush your aligners, use a soft brush or one made for dentures.
Hot water: Hot or boiling water can alter the shape of your aligners. Avoid soaking your trays in hot water or placing them in a dishwasher.
Harsh chemicals: Any harsh chemicals like alcohol, bleach and other agents can dry out or damage the aligners. 

Shop for Aligner Cleaning Products at EverSmile
You want the most effective cleaning solutions for your aligners and retainers, and EverSmile has an excellent line of products to keep your trays fresh. We want to make sure that everyone can keep their smiles clean, and our AlignerFresh and WhiteFoam help keep your teeth white and devices free of bacteria.
Check out all of our products to see which ones will fit your needs, or feel free to contact us with any questions.
Liquid error (templates/article line 357): Could not find asset snippets/blog-widgets.liquid