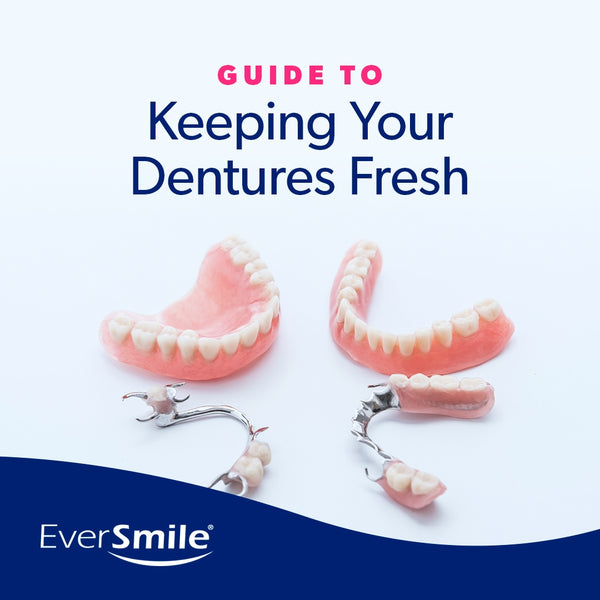 Guide to Keeping Your Dentures Fresh
If you're one of over 40 million people in America who wears dentures, you probably wonder how you can keep your dentures fresh and clean. From the right methods to the best cleaners, there's a lot to consider. But with proper denture care, you'll keep your artificial teeth in the best condition possible.
In this guide to keeping your dentures fresh, you'll discover the best and simplest ways to care for your dentures. Get cleaning with the tips below for a brighter, fresher smile!
1. Use EverSmile FreshDent
For the best denture cleaner, use EverSmile FreshDent. This denture product acts as a three-in-one, and it's the only on-the-go, wearable denture cleaner. With FreshDent, there's no removing, rinsing and soaking to worry about. Keep FreshDent products with you during your busy day and freshen up your dentures whenever you need to. Use FreshDent to:
Spray: For an on-the-go solution to keeping your dentures fresh, reach for the FreshDent 10-milliliter sprayer. Simply spray this liquid denture cleaner once in your mouth as you would with a breath spray. Wipe the solution across your dentures using your tongue for a quick, simple and discreet way to freshen your artificial teeth when you're out and about.
Brush: While you can use a clean brush on your dentures, adding a pump of FreshDent from the 50-milliliter foamer gets dentures cleaner. Simply pump a bit of the foam onto your soft-bristled toothbrush and brush your dentures for at least two minutes.
Rinse: If you can't take your dentures out but need to clean them, rinse with FreshDent foam. Swish the foam in your mouth for 60 seconds, being sure to reach every corner of your mouth to clean your dentures.
FreshDent also helps you clean dentures naturally. We don't use any harsh chemicals in our FreshDent products, making them suitable to use while you're still wearing your artificial teeth. Other products include chemicals that don't always wash away after you clean your dentures. That can leave a bad taste in your mouth. Opt for FreshDent, instead, to enjoy a mild mint flavor and cleaner dental appliances.
2. Brush Dentures Daily
Along with using FreshDent, it's important to learn how to clean dentures correctly. When you brush dentures, you shouldn't use toothpaste because it's an abrasive cleaner. Natural teeth can handle a tougher cleaning, but dentures are made of materials like resin, porcelain and acrylic. Because of their delicate materials, dentures require brushing with a special soft-bristled brush. Choose a toothbrush specifically made to clean dentures as stiff bristles will damage or wear down the surface.
While you could brush your dentures with a brush and nothing else, you could also use denture cleaners. Some recommend mild dish soap, hand soap or a mildly abrasive toothpaste. For the feel of a professional denture cleaning, stick with products and brushes made specifically with artificial teeth in mind, like our FreshDent products, which are toothpaste alternatives.
Brushing your dentures with a soft-bristled brush and no toothpaste helps remove plaque and food buildup, just as it does for natural teeth. Brush your dentures at least once a day to help prevent stains and keep your teeth fresh and clean. To make cleaning easier, remove your dentures before brushing them. This way, you can carefully and thoroughly brush around plastic or clasps and get into grooves to remove denture adhesive if you use it.
3. Rinse After Eating
If you're wondering how to clean dentures naturally, just use water. Rinse your dentures off after you eat to prevent food buildup and to keep them clean. If you can, remove your dentures when you rinse them under tepid water to make it easier. You could also swish and rinse your mouth with water after eating if you can't remove your dentures in the moment. The goal is to remove loose food and particles so they don't build up on your dentures before you get the chance to brush.
Whenever you remove your dentures to clean them, do so carefully. Artificial teeth are made of fragile materials, and one drop could crack or break them. When you remove your dentures, place a towel on the counter and fill the sink with some water so if they do fall, they land on a softer surface.
4. Store Dentures Properly When Not in Use
You can still work to keep your dentures fresh even when you aren't wearing them. Soak your dentures when not in use so they don't dry out or lose their shape. Choose a denture cleaning solution meant to use for soaking, and follow the instructions to treat your artificial teeth correctly. When you do soak your dentures, avoid using hot or boiling water. High temperatures can misshape your dentures, leading to discomfort and the need for a replacement.
If your dentures have any metal components, check with your dentist first to see if you should still soak them. Some metal attachments could tarnish if you soak them, especially in particular solutions. Your dentist will suggest the best soaking method and cleaners for your specific dentures.
5. Consider a Professional Denture Cleaning
Natural teeth require regular professional cleaning, and you can get the same for your dentures. Many dentist offices offer professional denture cleaning services. They can remove plaque and stains while you're getting a checkup or another dental service.
A professional denture cleaning is convenient since you won't have to do any of the work. You can also rest assured knowing your dentures are in capable hands. Dental professionals understand how delicate artificial teeth are, and they use cleaning tools and solutions made specifically for dentures to avoid damaging them.
Some professionals recommend getting a denture cleaning three to four times a year. You can get at least two a year with your six-month dentist visits and return for additional denture cleanings. While you're there, you can ask if your dentist has any care recommendations for your specific dentures to learn more about keeping them fresh.
Choose FreshDent to Keep Your Dentures Clean
If you've been searching for the best denture cleaner, EverSmile has your solution. Since 2013, EverSmile has been putting science and innovation behind every smile. We want it to be easy for everyone to have bright, healthy smiles, which is why we offer FreshDent to help those with dentures keep everything fresh and clean. As the only wearable denture cleaner, it's easy to take FreshDent on the go and use it every day.
Shop our FreshDent products today or contact us to learn more!
Liquid error (templates/article line 357): Could not find asset snippets/blog-widgets.liquid