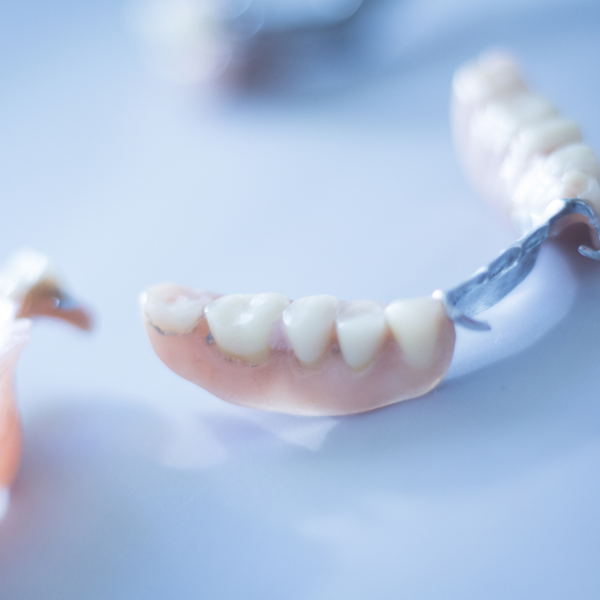 How to Clean and Care for Partial Dentures
When you think of dentures, you might have visions of your grandma's full set soaking in a glass on her nightstand. But dentures aren't just for the old and toothless. Tooth loss can happen for a lot of reasons to people of all ages, and dentures come in a variety of shapes and sizes. 
Follow these partial denture care tips to keep your replacement teeth fresh and clean.
5 Tips for Caring for Partial Dentures
Removable partial dentures are a great option for people who still have natural teeth in their mouth and only need some replacements. These dentures feature replacement teeth on acrylic, nylon polymer or chrome cobalt frameworks to serve as durable stand-ins for your missing teeth. Here's what you need to do to keep them in good shape.
1. Clean Them Every Single Day
Just like we clean our natural teeth every day, dentures also need to be cleaned daily. They're susceptible to the same kinds of mouth bacteria that can cause bad breath, tooth decay and denture erosion.
Rinse your dentures after every meal to get rid of loose food debris, and clean daily with an approved cleaning product. You can also soak your dentures overnight in a cleaning solution for a deep clean that'll leave you feeling fresh.
2. Brush Them, But Not With Toothpaste
Brush your dentures with a soft-bristled manual toothbrush as part of your daily cleaning routine. Carefully remove your dentures and work over a sink full of water or a soft towel just in case they slip out of your hand. 
Be sure to use a dedicated denture cleaning product or mild soap when you brush your dentures. Because your replacement teeth don't have enamel, toothpaste is too abrasive and can damage them, creating abrasions where bacteria can collect. 
3. Always Follow Instructions
Your dentist will give you instructions on how to care for your dentures and what not to do. Be sure to follow these instructions and any guidelines from the manufacturer to protect your dentures. 
Dentures are expensive and delicate. You don't want to cut corners using incorrect products or trying to repair them on your own. You may break or damage them in the process and end up having to buy a new set.
4. Use FreshDent for Easy Cleaning
Keeping your dentures clean doesn't have to be hard if you've got the right products. EverSmile's FreshDent denture cleaner is the perfect product for cleaning partial dentures because it eliminates stains and kills 99.99% of the bacteria with no harsh or abrasive chemicals. 
FreshDent comes with two components — a foaming pump for at-home cleanings and a spray bottle for on-the-go convenience. Whichever one you use, there's no need for rinsing. Just apply the cleaner and go about your day with fresher, brighter dentures.
5. Don't Let Them Dry Out
Any time your dentures are out of your mouth, you need to keep them wet. If they dry out, they could lose their shape or fit and become brittle and uncomfortable. If you remove your dentures, soak them in water or a cleaning solution to keep them moist.
Keep Your Dentures Clean With EverSmile
EverSmile products were designed by orthodontists to help everyone achieve a clean, healthy smile. Browse our online catalog to find the perfect products to keep your partial dentures fresh throughout the day.
Liquid error (templates/article line 357): Could not find asset snippets/blog-widgets.liquid