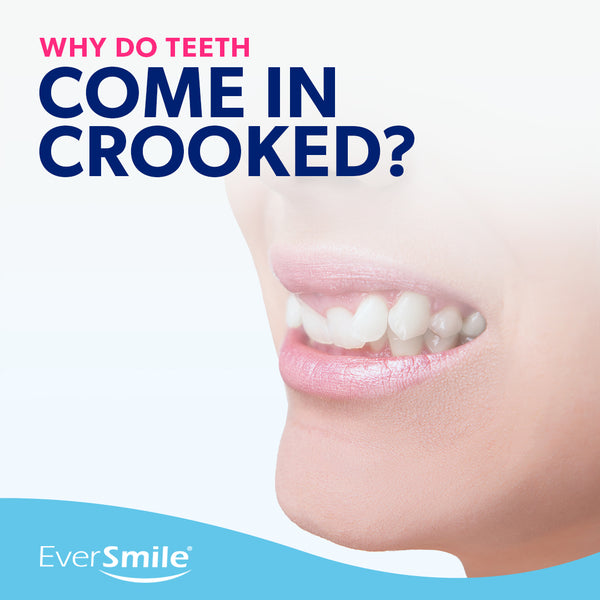 Why Do Teeth Come in Crooked?
If you've ever looked at your smile in the mirror and noticed misaligned teeth, you've probably wondered why teeth come in crooked. Is there any way to correct this issue? Luckily, you have a few options for fixing your smile, but there are even more causes of misaligned teeth to consider. We've put together this guide to explain everything from possible causes of crooked teeth to different ways to straighten them.
What Causes Crooked Teeth?
Baby teeth and permanent teeth can come in crooked, or they may become crooked over time. There isn't always a connection between crooked baby teeth and permanent teeth, but certain issues that cause misaligned baby teeth can lead to permanent teeth coming in crooked. You could have issues in adulthood that create misaligned teeth over time as well. With so many possibilities for what crooked teeth mean, you'll have to consider your situation. Here are some of the common causes of crooked teeth.
Smaller Jaw Size
Over centuries, humans have developed shorter jaws. That's because generations ago, our ancestors had to chew harder foods. As foods became more processed, they also became softer, meaning our jaws didn't need to work as hard. 
Many researchers believe that because our jaws are smaller, we experience crooked teeth as a result. There isn't enough room for our teeth, and they become crowded in our jaws and misaligned.
Bad Habits
Myofunctional habits, or habits that affect face and mouth muscles, can cause teeth to become crooked. Things like breathing through the mouth, thumb sucking and using a bottle or a pacifier can make baby teeth crooked. That could impact how permanent teeth come in, or it could make them misaligned. Grinding your teeth or clenching your jaw as an adult can cause problems for your permanent teeth.
Misaligned Jaw
Also called malocclusion, a misaligned jaw can lead to teeth coming in crooked or becoming crooked over time. An aligned jaw will close with the upper teeth fitting slightly over the lower ones. The top and bottom molars should align. If you don't have that alignment, you may have a malocclusion.
A misaligned jaw commonly involves either an underbite or an overbite. With an underbite, your lower teeth protrude more than the upper ones. If you have an overbite, your upper teeth protrude over the lower ones. Bad myofunctional habits can cause a misaligned jaw, along with crooked teeth.
Genetics
One way to determine if you or your child will have teeth come in crooked is to consider your genetics. If your parents had crooked teeth, you might inherit that. And if you have crooked teeth, your child could, as well. It's also possible to inherit an overbite or underbite from your parents.
Poor Dental Hygiene
Dental hygiene obviously affects our smiles. Brushing your teeth twice a day for two minutes each time, making sure you don't push too hard with the toothbrush, is essential for a healthy smile. You should visit the dentist at least once a year as well, and ideally twice. Without dentist visits, you may develop gum issues or cavities. Those can affect your mouth's health and create problems, like crooked teeth.
Poor Nutrition
When we care for our bodies, we're caring for everything, including our teeth. A poor diet can lead to tooth decay and tooth development issues, which could cause misaligned teeth. Get better nutrition and help your smile with:
Fiber-rich produce.
Dairy products and other calcium-rich foods.
A low-sugar diet.
Plenty of water.
Crooked Teeth Solutions
Misaligned teeth can cause a lot of difficulties. You may need crooked teeth treatment if you have trouble cleaning between misaligned teeth, have difficulty chewing, notice excess wear on your teeth and gums or have difficulty speaking. Crooked teeth can also impact self-esteem, so whether you need crooked front teeth solutions or an all-over fix, treatment lets you regain your confidence and comfort. Possible crooked teeth treatments include:
Metal braces: This is among the most common treatments for misaligned teeth. Brackets, bands and flexible wire attach braces to your teeth and create pressure that corrects misalignment. That pressure slowly encourages your teeth to move into a straighter position, a process that can take two to three years or more, depending on what your teeth need.
Ceramic braces: These braces work similarly to metal braces. The main difference is their material and appearance. Ceramic braces feature clear or tooth-colored components that are less visible than their metal alternative. Adults may prefer ceramic styles over metal ones if they need braces, but it's worth noting that ceramic braces can stain and break easily compared to metal ones. They also have a higher cost because of their materials.
Invisible braces: Invisible braces are becoming a more popular option for teens and adults. This crooked teeth treatment uses a series of clear plastic aligners to straighten your teeth. It's more often recommended for less severe tooth concerns. Aligners may take longer than traditional braces to straighten teeth, but many choose them because they're discreet.
Lingual braces: These braces attach to the backs of your teeth. They have a similar design to metal braces, but because they face your tongue, they're essentially invisible. Lingual braces are expensive and are only recommended for minor misalignment issues, so they're not as common as other options. Some find that lingual braces take longer to get used to, and they often take longer to work.
Surgery: If you're looking at how to fix crooked teeth without braces, surgery may be the answer. A minor procedure repositions the bones and gums that hold your teeth and encourages the teeth to become straighter. A more involved procedure, known as orthognathic surgery, realigns your jaw and is often recommended for anyone having trouble chewing or speaking because of their misaligned teeth. In some cases, you may still require braces after surgery, but the procedure could lessen how long you need to use braces.
Care for Your Crooked Teeth Treatment With EverSmile
Once you decide what crooked teeth treatment is right for you, keep things clean with help from EverSmile. Our range of products combines science and innovation to help you maintain fresh breath and a dazzling smile. Choose from these EverSmile products, depending on your misaligned teeth treatment, that kill 99.999% of bacteria within one minute:
WhiteFoam: Keep aligners and clear retainers clean and fresh with WhiteFoam. This solution is a wearable aligner cleaner, meaning you apply the foam onto your aligner trays, put them in and you're ready to go!
OrthoFoam: Get a deep clean for your braces with OrthoFoam. This cleaning solution cleans and whitens your teeth, while also cleaning around, underneath and on top of ceramic and metal braces.
Shop our products today to keep your smile fresh and clean!
Liquid error (templates/article line 357): Could not find asset snippets/blog-widgets.liquid