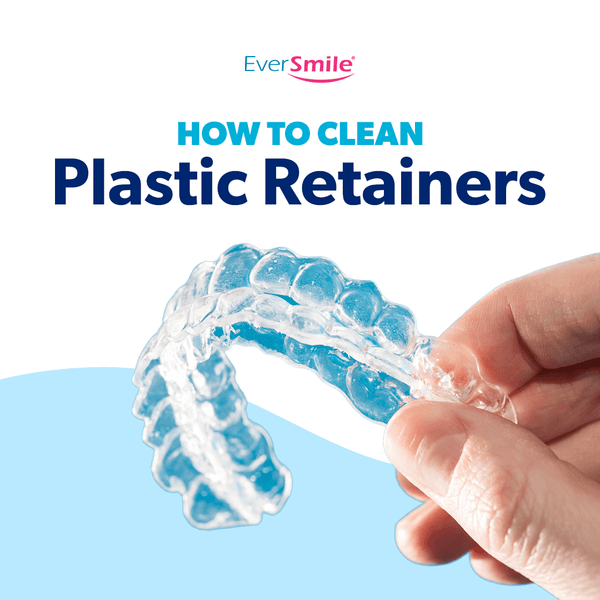 How to Clean Plastic Retainers
Retainers are an important part of your orthodontic treatment. Aligners do the heavy lifting by moving your teeth into a straighter position, but retainers are the devices that keep them from shifting back. Your teeth have a muscle memory that makes them want to go back to their previous positions, even after straightening. Retainers make sure all your time and money was well-spent by ensuring your teeth stay where you want them. 
You'll be wearing your retainer for a long time, so you should make an effort to take good care of it. Here is a look at how to keep your plastic retainers clean for years to come.
Importance of Cleaning Your Plastic Retainer
Cleaning your plastic retainer is a necessary part of good dental hygiene. When you first get your retainer, you may have to wear it for most of the day. Eventually, you will only have to wear it for half of the day. Soon you'll only be wearing it at night when you go to sleep. However, no matter where you are on your personal retainer timeline, you're going to be wearing your retainer for several hours per day. 
The amount of contact your retainer makes with your teeth depends on the type of retainer and how many hours you wear it per day. There are three types of retainers that you could wear:
Clear plastic retainers: Some people refer to these as Essix retainers, among other names. If you used clear alignment trays to straighten your teeth, then you'll be familiar with this style of retainer. They are clear, removable and fit tightly against your teeth to keep them from shifting. People might not notice them as they sit in your mouth thanks to their discreet appearance. 
Hawley retainers: These retainers have a plastic base that fits into the roof of your mouth. Wires extend from the base and wrap around your teeth, holding them in place. Hawley retainers are removable and durable, but they're a bit more noticeable than clear plastic retainers. 
Permanent retainers: An orthodontist will install permanent retainers in your mouth if they feel your teeth are at high risk of shifting. As the name implies, you will be unable to remove permanent retainers once your orthodontist puts them in your mouth. Permanent retainers consist of small pieces of metal or plastic with some wire that fits behind your bottom front teeth. 
Whatever type of retainer you have, it's important that you keep it clean. The large amount of contact with your teeth allows bacteria, plaque and other funk to get onto your retainer. If you don't remove the plaque from your retainer, it could result in a visible buildup that is hard to get off. This can affect your retainer's ability to keep your teeth straight as well as its level of safety to wear. 
Without proper cleaning practices, your retainer could get pretty disgusting, impacting both the cleanliness and durability of your retainer. You open yourself up to many risks when you wear a dirty retainer. Plus, if you want your retainer to last, you have to keep it clean. This is the best way to ensure safe and effective functioning for many more years. 
Keeping your retainer clean contributes to healthier teeth, better breath and a more confident smile. Even if you clean your teeth, forgetting to clean your retainer can cause lingering negative effects that could impact your dental health. 
Risks of Not Cleaning Your Plastic Retainer
Cleaning your retainer is a crucial part of keeping it fresh and functional for many years, but the importance of maintaining your retainer extends beyond that. Failing to clean your retainer can impact your dental health, leading to serious issues. Your mouth causes your retainer to become dirty throughout the day, but a dirty retainer can increase your risk of contracting and developing various mouth-related issues.
Your saliva is your mouth's natural cleaning agent. As saliva covers your teeth, it removes bacteria and food particles that could cause cavities and other issues. When you start wearing a retainer, you limit the amount of saliva that contacts your teeth. Clear plastic retainers cover the largest area of teeth, while Hawley retainers leave your teeth more open to saliva cleaning. Permanent retainers often have a small shape, but they could be there forever. That's a long time to have something covering parts of your teeth. 
If you continue using a dirty retainer, the funk from it will always be touching your teeth. Your saliva will unable to adequately clean these blocked areas of your teeth, so the bacteria will be able to grow and develop. 
Besides restricting the natural flow of saliva in your mouth, retainers can trap food against your teeth as well. This further increases your risk for cavities, bad breath and gum-related diseases like gingivitis. 
In more serious circumstances, the bacteria that develops on your dirty retainer can be a threat to your health. You'll always have bacteria in your mouth — you actually need a proper microbial balance for a healthy immune system. However, you want to keep bacteria from growing on your retainer, as this can shift the balance in an unhealthy direction. That can be difficult since your retainer spends so much time in contact with your teeth, getting dirtier as you wear it.
If you leave your retainer dirty, it can become a breeding ground for bacteria that can potentially make you sick, such as Streptococcus — the bacteria that causes strep throat. You could end up with a sore throat and inflamed tonsils, among other ailments. 
Cleaning Plastic Retainers
Plaque buildup is the main culprit of a dirty retainer. Plaque makes it easier for bacteria to cling to your retainer, so you should make sure you're doing what you can to keep it away. If you want to know how to remove plaque from plastic retainers — and prevent it from building up — you'll have to be willing to develop a routine. Cleaning your retainer throughout the day is the key to removing bacteria and other funk from accumulating as a result of lingering plaque. 
The following sections will give you tips on how to remove plaque from retainers in a way that is safe for both you and the delicate materials of your retainer.
Items You Will Need
Here are some of the most common items you'll need to clean your retainer. You might even have some of them at home already:
WhiteFoam by EverSmile
White vinegar
Baking soda
Dish soap
A gum brush
Cotton swabs
A stainless steel container
With these items, you will be able to clean your retainer in a safe and efficient way. Gather what you need, and try out the cleaning methods in the next session to give your retainer the cleaning it deserves.
How to Clean Retainers
Whether you're establishing your retainer-cleaning routine or you're wondering how to clean plastic retainers with a bit of plaque buildup, these cleaning methods can help keep your retainer looking and feeling good as new:
1. WhiteFoam by EverSmile
Cleaning clear plastic retainers can be time-consuming. You have a busy life, and sometimes it's hard to clean your retainer as well as you'd like. If you want to enjoy a cleaner retainer while staying on the go throughout the day, try WhiteFoam from Eversmile. 
WhiteFoam is a hydrogen peroxide-based cleaning solution with several convenient benefits. You can squeeze WhiteFoam into your clear plastic retainer and move it around so it evenly coats the inside. Then, insert your retainer into your mouth. WhiteFoam will clean your retainer, freshen your breath and even whiten your teeth as you go about your day like normal. You can also soak your retainer in WhiteFoam for a few minutes to give it a deeper clean. WhiteFoam is your comprehensive retainer cleaning solution.
2. The White Vinegar and Baking Soda Method
This method is popular because it uses items you likely already have in your home or can easily acquire from a nearby store. It's also safe while being effective at removing plaque and other funk from your retainer. 
Use a stainless steel container to soak your retainer in a mixture of lukewarm water, white vinegar and baking soda. These compounds work together to remove plaque and kill bacteria. Let your retainer soak for 10 to 15 minutes, and it should come out clean and sanitized. Rinse it under cool water, and it's all ready to use again. 
3. Using Dish Soap to Clean Your Retainer
It may seem odd at first, but you can clean your retainer with mild dish soap. Washing with dish soap is a great way to keep your retainer clean and free from bacteria without using harmful chemicals that could damage your retainer's delicate materials. 
Use something soft like a sponge or a cotton swab to clean your retainer with dish soap. Keep the water at a cold or lukewarm temperature. You can also create a dish soap and water mixture and let your retainer soak in that for a while for some extra cleaning. After cleaning your retainer with dish soap, make sure you rinse it off to avoid tasting soap when you put it back in your mouth. 
4. Cleaning Permanent Retainers
Permanent retainers bring a unique challenge since you will be unable to remove them for cleaning like the other retainer styles. They are always in your mouth, making them even more susceptible to bacteria, plaque and other unwanted particles from daily use. And since they are permanent, their cleanliness will have a direct impact on your breath and dental health all day long.
Use a toothbrush and toothpaste to reach and gently scrub your permanent retainer to clean it. Choose a toothpaste with baking soda to ensure you're cleaning the retainer's materials in a way that eliminates any bacteria or particle buildup. Using a gum brush, you can clean the hard-to-reach areas around your permanent retainer and between your bottom front teeth. 
How to Keep Your Retainer Clean
Make the process of cleaning your retainer easier by taking measures to keep it clean. One of the best ways to achieve this goal is by using WhiteFoam as part of your daily hygiene routine. WhiteFoam keeps your retainer clean while you wear it, so washing it or soaking it later in the day will be a breeze.
Keep your retainer submerged in water or a water and baking soda solution when not in use. A dry retainer makes it easier for funk to accumulate. Also remember to rinse your retainer under lukewarm water throughout the day if you can, as this will get rid of any particles that are building up. You can also bring your retainer to your dentist for more intensive cleaning care. They have the equipment and cleaning agents to kill the bacteria and get rid of all the plaque buildup.
Things to Avoid When Cleaning Your Plastic Retainers
It's possible to damage your retainer when you clean it, so be aware of the following things that could harm your retainer:
Hot water: Hot or boiling water can damage, warp or even melt the delicate plastic of your retainer. If this happens, your retainer could go from keeping your teeth straight to shifting them out of line. Try to keep your water temperature lukewarm when cleaning your retainer.
Toothbrushes and toothpaste: The bristles of your toothbrush are strong enough to damage your retainer. Most toothpaste has abrasive particles that are good for cleaning teeth but bad for cleaning retainers. Using a toothbrush and toothpaste on your retainer could scratch or gouge your retainer. This opens up more places for plaque and bacteria to cling to. 
Mouthwash: Avoid soaking your removable retainer in mouthwash. The alcohol content in mouthwash can dry out your retainer, making it easier for bacteria to grow. Plus, the colorants and dyes of mouthwash can stain your clear plastic retainer.
Choose WhiteFoam by EverSmile to Keep Your Retainer Clean
When you want to clean your retainer and keep it clean all day long, you need WhiteFoam by EverSmile to get the job done. With WhiteFoam, you can focus more on your daily life and less on wondering how your breath smells or if your clear retainer is clean. WhiteFoam cleans your retainer, freshens your breath and whitens your teeth, so you can smile with confidence. 
Browse our selection of products online and give WhiteFoam a try today. Order it online or ask for it at your local pharmacy. WhiteFoam by EverSmile could change the way you practice oral hygiene with your retainer forever. 
---
Reviewed By Michael Florman, Updated on 12/8/21
Liquid error (templates/article line 357): Could not find asset snippets/blog-widgets.liquid