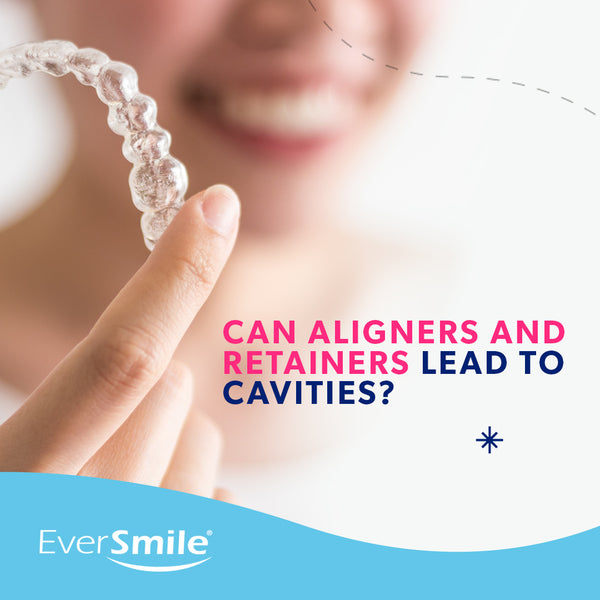 Can Aligners and Retainers Lead to Cavities?
Proper dental care is key to a healthy, happy smile. From a young age, people practice oral hygiene to reduce their risk of cavities and take care of their teeth. If you've started using aligners or retainers, you might be wondering how they affect your dental health. Do aligners cause cavities? What's the relationship between cavities and retainers?
Keeping your teeth clean is essential, but it is even more crucial when you introduce retainers and aligners to your daily life. You've spent a lot of time and money straightening and retaining your teeth. This brief guide will help you make sure you're doing all you can to keep cavities away throughout the process. 
Types of Teeth Alignment Methods
Throughout the years, orthodontists have used various techniques to straighten people's teeth and keep them straight. From headgear and braces to palate expanders and spacers, alignment methods fall under two main categories.
Aligners: Orthodontic devices that gradually move and straighten teeth through applied force
Retainers: Orthodontic appliances that keep teeth from shifting after using aligners
The two methods go hand in hand. Most patients will spend time wearing aligners before moving on to retainers to ensure their teeth stay straight. The amount of time people spend using each method differs from person to person. Someone could wear aligners for years, then use a retainer for the rest of their life. Other people have permanent retainers installed after spending a brief period using aligners. Either way, it's a commitment toward the goal of a straighter, more confident smile. 
Aligners have evolved over the years. What was once a noticeable and inconvenient procedure — such as using headgear to straighten teeth — is now discreet and convenient with the advent of aligner trays like the ones available from Invisalign. These sleek alignment trays slip over your teeth and are hardly noticeable. 
There are two main types of retainers.
Hawley retainers: These retainers use a plastic base that fits into the roof of your mouth. Wires connected to the base extend out and wrap around your teeth to keep them from shifting. 
Essix retainers: Like Invisalign, Essix retainers are clear and fit around your teeth like a mouth guard. Their tight fit keeps your teeth from moving around after alignment. 
There's a good chance you're familiar with most of these options — you may even be using some of them to align or straighten your teeth as you're reading this. But the question remains: Do retainers and aligners lead to cavities?
Can Clear Aligners or Retainers Cause Cavities?
Both alignment methods have something in common: They contact and cover areas of your teeth. While braces and Hawley retainers only make contact with some parts of your teeth, tray aligners and Essix retainers surround all your teeth at once. Do clear aligners cause cavities by enclosing your teeth like that? Will retainers lead to cavities even if they're only touching parts of your teeth? 
These are valid questions to ask. The two main contributing factors to keeping cavities away are a healthy diet and quality, consistent dental care.
It's common knowledge that sugars and unhealthy foods contribute to cavities, but keeping your teeth clean is equally vital. Your saliva is your body's natural oral cleanser. As saliva contacts your teeth, it cleans food particles and plaque buildup. When you wear aligners and retainers — especially tray aligners that cover all your teeth — you hinder your body from naturally cleaning your teeth. 
Food particles and plaque can get trapped between your teeth and your aligners, raising the possibility of developing a cavity. Without the cleansing power of saliva on your teeth, you run an even higher risk of cavities. Thankfully, if you follow the two factors for preventing cavities, you'll be in good shape. There are many ways to achieve this, even when you're wearing aligners and retainers. 
How to Prevent Cavities When Wearing Aligners or Retainers
Will aligners lead to cavities? Not necessarily. The following tips will help you keep your teeth and aligners clean for a healthy, attractive smile that you can feel confident displaying. 
Use EverSmile WhiteFoam
You must clean your aligners or retainers every day to limit the spread of harmful bacteria that can cause cavities, bad breath and plaque buildup. With WhiteFoam from EverSmile, cleaning your aligners is a snap. All you have to do is pump the foam into your tray aligner and fit it over your teeth as usual. The hydrogen peroxide-based solution deep-cleans your aligner to get rid of the gunk as you wear it, whitening your teeth in the process!
And since it incorporates the fresh scent of mint, you can confidently laugh and talk with your friends, knowing your smile looks and smells great. You won't need to scrub or soak your aligners with WhiteFoam — it does the work for you the moment you apply it to your aligners. 
Regularly Clean Your Aligners or Retainers
After WhiteFoam, the next best thing you can do for your aligners or retainers is clean them with the classic methods. Soaking in a cleaning solution with lukewarm water is the safest way, since it keeps your aligners' thin plastics from chipping or warping. Some people like to use a toothbrush and toothpaste to clean their aligners, but the toothpaste's abrasive nature can cause harm. 
If you do use the toothbrush-and-toothpaste method, try to be gentle to avoid scratching your aligner. Scratches in your aligners can trap bacteria, and wearing a damaged aligner can affect the progress you've made and shift your teeth incorrectly. Carefully clean your aligners or retainers to limit the spread of cavity-causing bacteria.
Brush Your Teeth After Eating and Always Before Wearing Aligners
The main culprit of developing cavities is food particles that get stuck in your teeth and trapped by your aligners. You can reduce your chances of developing cavities if you brush your teeth after eating and before wearing your aligners or retainers. If you can help it, avoid wearing aligners after meals without first taking steps to clean your teeth. 
Sometimes, swishing water around can be enough to hold you over until you can do a proper brushing. But, you should try your best to brush your teeth consistently so that you're fitting your aligners over clean teeth. That way, no food particles become trapped and cause cavities. 

Protect Yourself From Cavities With WhiteFoam From EverSmile
Since 2013, Eversmile has been helping Invisalign patients and users of other tray aligners keep their smiles fresh and healthy with WhiteFoam. Our company's founder was a leading Invisalign provider who realized that his patients needed a product to keep their teeth and aligners clean without the hassle of rough brushing or constant soaking. 
Cavities and aligners belong far away from each other. Now, you can experience the benefits of WhiteFoam and our other dental health products. Begin a new era of dental health by cleaning your aligners with WhiteFoam from EverSmile. 
Reviewed By Michael Florman, Updated on 12/8/21
Liquid error (templates/article line 357): Could not find asset snippets/blog-widgets.liquid