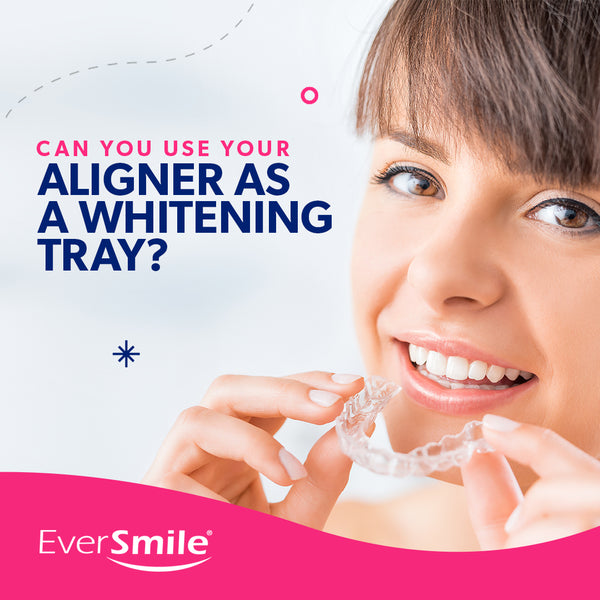 Can You Use Your Aligner as a Whitening Tray?
Clear aligner trays are a convenient way to straighten your teeth without the hassle or appearance of standard aligners like braces. With clear aligners like the ones available from Invisalign, you can smile with confidence, knowing your teeth look great.
You care about getting straighter teeth, but you also want your teeth to look bright and white in the process. You may be wondering, "Can you whiten teeth with Invisalign aligners?" Or, more specifically, "Can you use aligners as whitening trays?" The answers to both questions are more complicated than a straight "yes" or "no." Read on to find out if you should give it a try.
How Do You Achieve Bright White Teeth?
If you're unhappy with the color of your teeth, take heart. There are many ways you can get whiter teeth, ranging from simple, everyday tasks to extensive treatments. Here are some of the ways you can brighten and whiten your teeth at home.
Bleaching treatments: Many over-the-counter whitening treatments use gentle bleach such as hydrogen peroxide to whiten teeth. These can be brush-on or gel-based products that you apply to your teeth with special trays. Depending on the products' strength and the amount of time you leave them on, you could leave yourself open to various risks. 
Whitening strips: This option is a bit gentler than bleaching treatments. Whitening strips are clear and contain a peroxide-based gel coating that contacts your teeth when you apply the strips. They're a popular option because they take very little time out of your day, and you can start seeing results after a few days. 
Oral hygiene: Brushing and flossing every day is the first step toward achieving healthier teeth. These habits will reduce plaque buildup, keeping your teeth bright and white. Some toothpaste brands have whitening agents and abrasive particles that can polish your teeth to a whiter shine. Healthy dental practices and whiter teeth go hand in hand.
Can You Combine Whitening With Aligners?
Whitening trays and clear aligners look similar. They can be clear and shaped to fit your teeth. So, the question often arises: "Can you use Invisalign aligners as whitening trays?" Teeth whitening with aligners may seem like a convenient way to achieve both goals at once, but you should think twice before attempting it. 
Whitening products won't mess up your alignment process. Your teeth should continue to straighten normally, since most whitening products will be gentle on your aligners. They may even help clean your aligners. Despite this, there are risks to using aligners as whitening trays. 
Teeth whitening with Invisalign aligners poses risks to your mouth and body rather than the aligners themselves. Doing so can also lead to unfavorable whitening performance, so read on to learn why it might be best to wait until after you've finished your alignment treatment to begin whitening your teeth.
Risks of Using Teeth Aligners as Whitening Trays
You may have a negative experience if you use Invisalign aligners as whitening trays. Here are some of the risks to understand.
Burning gums: Alignment trays fit more tightly around your teeth than whitening trays do. Whitening trays need a looser fit to allow the gel to surround your teeth. Alignment trays' tight fit causes the whitening gel to squeeze from the top of the trays and onto your gums, leading to gum burning and damage. You could also accidentally swallow some of the whitening gel that escapes from your aligners, leading to an upset stomach.
Sensitive teeth: Whitening products can lead to sensitive teeth, and using aligners as whitening trays can worsen the issue. Many patients need to wear their alignment trays all day for them to be effective. On the other hand, you should only use whitening trays for several minutes per day to limit sensitivity. Using your aligners as whitening trays leads to prolonged exposure to the whitening agents, causing painful teeth.
Uneven whitening: Many doctors recommend waiting until after you finish your alignment treatment to begin whitening your teeth. Some people need attachments on their teeth to apply extra pressure to specific parts of their mouths. If you start whitening with those attachments in place, you could have unwhitened spots on your teeth when the doctor removes them. Plus, whitening crooked teeth can reveal discolored areas when your teeth straighten out. It's best to wait until your teeth are straight to start whitening. 
The Solution: WhiteFoam by EverSmile
If your goal is to achieve a bright, even smile, all this may seem like bad news, but with WhiteFoam by EverSmile, there is hope. WhiteFoam is a hydrogen peroxide-based solution that simultaneously cleans your aligners, freshens your breath and whitens your teeth. WhiteFoam is especially for clear aligner patients and can change the way you think about your dental hygiene with aligners. 
Keeping your aligners clean can get old. Soaking, rinsing and cleaning them takes time and effort. Keeping your aligners clean throughout the day might seem impossible. WhiteFoam makes these tasks a cinch. All you have to do is pump the foam into your aligner, spread it around and slide the aligner over your teeth with the WhiteFoam inside. The WhiteFoam will immediately start keeping your aligners clean while freshening your breath. And, as a bonus, it gently whitens your teeth.
Gone are the days of smelly aligners and yellowing teeth. When you incorporate WhiteFoam into your daily routine, you'll get a confidence boost knowing your breath smells fresh, your aligners are staying clean and your teeth are getting whiter. It all happens effortlessly as you wear your aligners at work or play. You'll be experiencing the benefits of using your aligners as whitening trays without any of the adverse side effects. 
If you ever need to deep-clean your aligner trays, you can soak them in WhiteFoam for several minutes to get rid of any lingering funk. WhiteFoam by EverSmile is the comprehensive solution to your dental hygiene needs when using aligners. 
Try EverSmile WhiteFoam for Whiter, Cleaner Teeth
Whitening your teeth while wearing aligners is possible with WhiteFoam. If you want to keep your aligners clean and cavities away while whitening your teeth, we encourage you to give WhiteFoam a try. Since our founding in 2013, we've been helping people with alignment trays achieve a healthier, whiter smile one pump at a time. 
Now, you can experience the same benefits of WhiteFoam by giving it a try yourself. Buy WhiteFoam online and browse our entire selection of dental products to see all the ways we can conveniently, efficiently enhance your oral health. 
Reviewed By Michael Florman, Updated on 11/16/21
Liquid error (templates/article line 357): Could not find asset snippets/blog-widgets.liquid