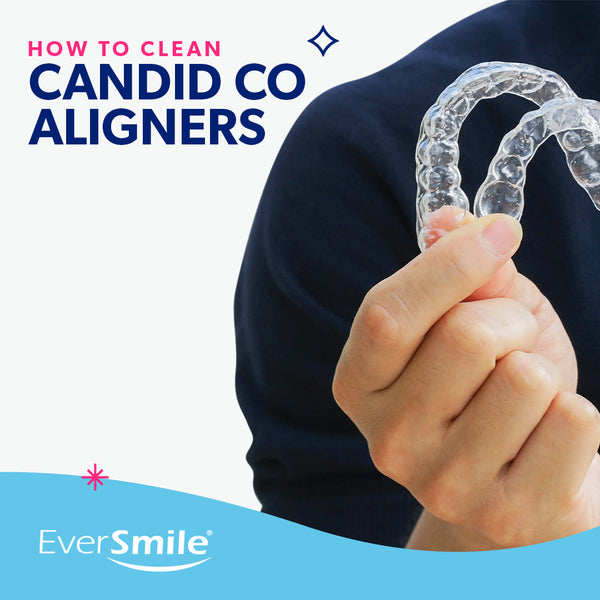 How to Clean Candid Co Aligners
Candid aligners are a great way to straighten your teeth with confidence. Clear aligners from Candid let you smile more and worry less about your appearance since they're discreet compared to traditional aligners like braces. Some of your friends might not even notice you're wearing them at your next get-together. 
That can all change if you let bacteria and other gunk build up in your aligners. Clear aligners can become noticeable for the wrong reasons if you forget to practice proper cleaning and dental hygiene. EverSmile is here to give you some tips on how to clean Candid aligners so you can keep smiling with confidence, knowing you look — and smell — great. 
What Are Candid Aligners?
Candid aligners are clear trays that straighten your teeth unobtrusively. They have a snug fit that covers your teeth and straightens them incrementally. You'll wear a tray for a set period before moving to the next one that continues to shift your teeth where the previous tray left off. At the end of your treatment, you'll have a straighter smile. Many patients notice straighter teeth after as little as six months. 
Two things set Candid apart from other clear aligner companies. For one thing, their prices are more affordable than the competition. But they also offer the services of trained orthodontic professionals who will monitor your ongoing progress and make sure your treatment is meeting your needs. The orthodontic checkups happen virtually, so you can enjoy their services from the comfort of your couch. With Candid aligners, professional orthodontic treatment has never been so easy. 
The Importance of Cleaning Candid Aligners
People love Candid aligners because of their clear, discreet appearance. You can smile wide while wearing them, knowing that people are noticing your radiant smile — not your aligners. However, the opposite will be true if you forget to practice proper cleaning practices with your Candid aligners.
Cleaning your Candid aligners is crucial to your confidence and your dental health. When you remove plaque from Candid aligners, you're keeping them looking clean, clear and fresh. If you let funk build up in them, they can start to look discolored. They can even develop an unpleasant odor, which is something you want to avoid. 
If you forget to clean your Candid aligners, bacteria can grow in them. Then, when you wear those aligners, you're transferring those bacteria to your teeth, which can contribute to cavities and other dental issues. If you're wondering how to remove plaque from Candid aligners and keep them looking and smelling fresh, read on to find the answer.
Steps to Clean Candid Aligners
Here are some Candid aligners cleaning steps to keep your smile healthy and happy.
Rinse them out after wearing them: A simple rinsing can go a long way toward keeping your Candid aligners clean. Doing so will limit bacterial growth by washing away any lingering particles. Just make sure you use cold water. We'll get into that a bit more later on.
Clean them with soap and water: Soap tastes gross, but cleaning your Candid aligners with it is a great idea. Regular dish soap is gentle while still being powerful enough to get rid of any buildup. Washing with soap and water will help your Candid aligners stay looking good as new. Again, make sure to keep the water temperature in the lukewarm-to-cold region.
Use EverSmile WhiteFoam aligner cleaner: WhiteFoam by EverSmile is a hydrogen peroxide solution that cleans your clear aligners as you wear them. All you have to do is pump it into your aligner tray, put it on and go about your day! It tastes and smells like mint to keep your breath fresh, and it whitens your teeth in the process. In short, it can change the way you approach your dental hygiene while wearing clear aligners.
Harmful Cleaning Methods to Avoid
If you wear Candid aligners to straighten your teeth, you need to be aware of a few potentially damaging cleaning methods. Here are a few practices to steer clear of.
Hot water: You should always use cold or lukewarm water when rinsing and cleaning your Candid aligners. Hot water can melt and warp the aligners' thin plastic, which might result in your teeth shifting incorrectly, causing discomfort and slowed progress. 
Toothpaste and toothbrush: Many people use a toothbrush and toothpaste to clean their Candid aligners. Doing so may be convenient and familiar, but it can cause harm. Toothpaste is abrasive. Combine that with rough bristles, and you have a damaged or scratched aligner waiting to happen. Scratches could make your clear aligners more noticeable when you wear them, and scratches trap bacteria. 
Mouthwash: It's a good idea to soak your clear aligners in a cleaning solution with cool water, but you should avoid using mouthwash for this purpose. Mouthwash comes in many colors, including green, blue and purple. These colorants can tint your clear aligners over time, making them less discreet. Keep your Candid aligners clear by staying away from colored mouthwash. 
Candid Aligners Cleaning Tips
Here's some extra advice to help you keep your Candid aligners clean.
Store Candid aligners in a cool, dry area: When you're taking a break from your aligners, keep them away from heat and moisture. Heat can cause damage, and dampness might contribute to bacterial growth. It's also a good idea to store your aligners in a protective case to protect them from getting crushed or broken.
Brush and floss your teeth before you wear your Candid aligners: Ensure your teeth are clean before putting on your aligners. Aligners can trap food particles and bacteria against your teeth, contributing to bad breath and cavities. Brushing and flossing can help keep your teeth healthy and your aligners looking fresh.
Take out your Candid aligners before eating and drinking: You may occasionally forget to take out your aligners before eating or drinking. That's OK — but make sure to rinse them out as soon as you remember. Drinking or eating with aligners will make them look dirty right away. Plus, hot beverages could result in warped aligners if you forget to take them out. 
Use WhiteFoam by EverSmile to Clean Your Candid Aligners
If you're looking for an easy and effective way to clean your Candid aligners, WhiteFoam is the product for you. We understand too many clear aligner patients struggle to keep their aligners looking clean. That's why we developed WhiteFoam to clean your aligner, freshen your breath and whiten your teeth as you wear it. You can even soak your aligner in WhiteFoam whenever you need a deeper clean. 
Give this new aligner cleaning sensation a try, and buy WhiteFoam today. You can also check out our selection of other dental care products. We're sure to have something to meet your unique dental hygiene needs. 
Reviewed By Michael Florman, Updated on 12/8/21
Liquid error (templates/article line 357): Could not find asset snippets/blog-widgets.liquid