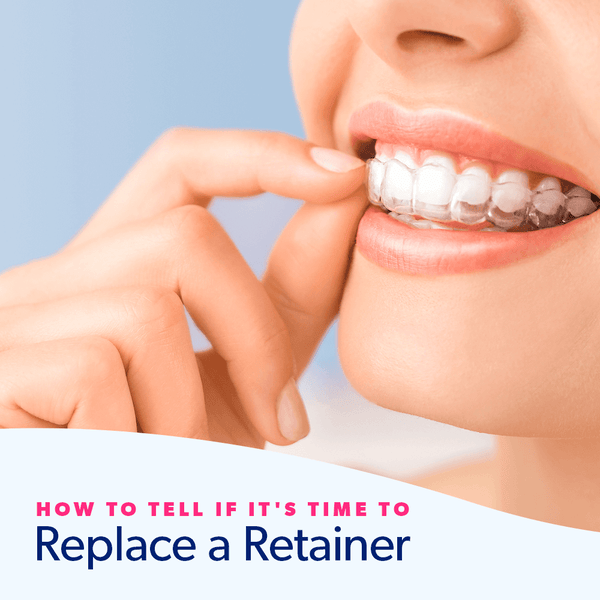 How to Tell if It's Time to Replace a Retainer
Retainers play an essential role in your post-orthodontic treatment plan. They help keep your teeth straight, maintaining the smile you invested in. Your orthodontist will likely recommend you wear a retainer for life because teeth are prone to shifting. Retainers usually only last a few years, so it's imperative you know when it's time to replace it so you can keep your smile.
Learn the telltale signs of when to replace your retainer, and use the below tips to make sure your current retainer lasts its entire lifespan.
Standard Types of Retainers: Hawley vs. Essix
There are a few types of retainers, but the two most common are Hawley and Essix. If you're wondering which one you have, consider these similarities and differences:
Hawley: When thinking of retainers, many people think of the 1919 Hawley retainer. Most people recognize it by its wire, which extends across the teeth, and the acrylic plate that forms to the roof of your mouth. This type moves teeth to the correct positions.
Essix: Essix retainers resemble Invisalign aligners, which feature clear plastic. Unlike Hawley retainers, Essix retainers aim to keep your teeth in place rather than move them.
Both are reliable options great for maintaining your smile. That said, both have their limitations and require daily cleaning. Continue reading to learn more about both of these criteria.
Retainer Replacement Guide and FAQs
Sometimes, retainers can be a bit confusing for new wearers. Retainers are different from braces and other aligners, so you might have a few questions, especially replacing them. These FAQs can point you in the right direction.
How Long Do Retainers Last?
Your retainer's lifespan depends entirely on how well you care for it, as well as the type your orthodontist provides.With the proper maintenance, the lifespan for retainers can last several years for each type of retainer.
After treatment, you'll receive retainers for your upper and lower teeth. Your upper teeth are more prone to wear and tear than your lower teeth. Therefore, your upper retainer will likely need replacing before your lower one. That's normal — just look for the classic signs you need a retainer replacement.
How Much Does It Cost to Replace Your Retainer?
Following your investment for orthodontic treatment, the investment for your retainers is well worth the cost. Retainers can cost a few hundred dollars, and you'll be able to use your retainer to keep your teeth straight for years to come. The total retainer replacement cost varies depending on the orthodontist you see and the type of insurance coverage you receive, as well.
What Are the Risks of Wearing an Old Retainer?
After a few years, your retainer won't fit your teeth the way it did when it was new. Removable retainers, especially Essix retainers, are prone to stretching and deforming. Wearing an old retainer that's stretched or deformed can shift and misalign your teeth, which means the retainer is no longer doing its job of keeping your teeth straight. 
If your teeth begin to move and misalign, you may have to start fresh with another orthodontic treatment plan. The best way to avoid this scenario is to replace your retainer when you notice signs it's time to replace it.
6 Common Signs It's Time to Replace Your Retainer
How do you know when to replace a retainer? Here's a look at the six most common signs.
1. There Are Cracks
A common sign that it's time to replace your retainer is the presence of cracks and dents. Cracks and dents take away the structural strength your retainer needs to keep your teeth aligned properly. The longer you wait to replace your retainer, the larger these cracks and dents become and the more prone your teeth are to shifting. Replace yours as soon as you notice cracks.
2. It Looks or Feels Warped
If you've ever put your retainer in the dishwasher, you aren't the only one. It's a scenario that orthodontists are very familiar with. If you've done this in the past, you know what happens to your retainer when cleaning with hot water — it warps and doesn't keep your teeth aligned anymore. It may even shift your teeth into the wrong positions. Soaking your retainer in cleaner with high alcohol content, like mouthwash, can cause warping, too.
3. It's Starting to Feel Loose
Repeatedly taking your retainer out and putting it back in will cause wear over time. It's a natural part of wearing one. If you notice your retainer feeling loose, it doesn't mean your teeth are shifting. Instead, it's an indication it's time to replace your retainer. 
A loose retainer doesn't have the structural integrity to keep your teeth aligned. Keep your teeth from shifting by getting your retainer replaced as soon as possible. 
4. You Notice Lots of Calcium Buildup
Your retainer is susceptible to the same bacteria that live in your mouth. Over 700 species of microbes — bacteria, fungus and more — exist in your mouth. Some of these bacteria form plaque. When you don't get rid of the plaque, it can harden into tartar, a buildup of calcium.
Over time, it's natural for there to be some level of calcium buildup, which looks like a whiteish or yellowish film. It's most commonly found in hard-to-clean spaces on your retainer. Calcium buildup can irritate your gums, cause bad breath and lead to gum disease or tooth loss. These conditions prevent you from properly wearing your retainer. Aim to replace yours when you notice a lot of this buildup.
5. It Smells Bad
Your retainer may begin to smell bad over time. As mentioned, your mouth is home to hundreds of different microbe species, which your retainer is also susceptible to. You may notice a bad smell coming from your retainer after a long night's rest or if you forget to clean it for a few days. That's normal. However, if you notice a bad smell that won't go away no matter how many times you clean your retainer, it may be the early signs of calcium buildup — which may mean your retainer's lifespan is almost up.
6. You Lost It
Look, things happen. In the years following your orthodontic treatment, you'll probably move around a few times or experience the occasional scatterbrain. It's common for orthodontic patients to misplace their retainers. If you do lose your retainer, contact your orthodontist right away and get a new one. The faster you get a new retainer, the less time your teeth have to shift. If you get your new retainer and find your old one, store it away and continue wearing your new one.
5 Tips on How to Take Proper Care of Your Retainer
Check out a few tips to help you take better care of your retainer so it lasts longer.
1. Take It Out Before Eating
Avoid eating or chewing anything with your retainer in your mouth. Chewing requires a lot of force, which can cause premature cracks and dents. When this happens, your retainer loses its structural integrity, possibly causing your teeth to shift around. It may even end up requiring a second round of orthodontic treatment.
Eating with your retainer in your mouth also causes food to get trapped in it. When food becomes trapped in your retainer, it can lead to plaque buildup or even calcium buildup over time. 
Here's a quick tip. When you take your retainer out before eating, avoid placing it on a napkin or tissue. If you do, you might accidentally throw it out, causing you to make an emergency call to your orthodontist for a replacement. Instead, try bringing your retainer case so you have a safe spot to stow it away.
2. Don't Brush Your Teeth With It In
Avoid brushing with your retainer in, as your toothbrush and toothpaste can harm your retainer. Toothpaste is excellent at cleaning your enamel and removing plaque. But toothpaste also has abrasive compounds your retainer can't handle because your retainer's materials aren't as strong as enamel. Be sure to clean your retainer separately from when you're brushing your teeth.
3. Clean It Regularly With the Right Products
Clean your retainers at least daily. Retainers are susceptible to the same bacteria found in your mouth. Just as you should brush your teeth daily, your retainer requires the same treatment. 
The best ways to clean your retainer are:
EverSmile® WhiteFoam™: The simplest and easiest way to clean your retainer is by using WhiteFoam. WhiteFoam is an exclusive product to EverSmile, a brand dedicated to keeping your retainers clean. Its formula includes hydrogen peroxide, which quickly and effectively cleans your retainers while brightening your smile. All you need to do is pump the product into your retainer, spread it around and pop your retainer back into your mouth.
Antibacterial soap and water: Clean your retainer by mixing a small amount of antibacterial soap and warm water into a small glass. Place your retainer into the mixture and let it soak for about 30 minutes. Afterward, rinse your retainer to remove any leftover soap.
White vinegar and water: Vinegar is naturally great at removing the stubborn particles built up in your retainer. Mix 1 part vinegar, 4 parts warm water in a small glass, then add your retainer. Let it sit for around 30 minutes. After, rinse your retainer with cool water and place it back in your mouth.
Baking soda and water: Like vinegar, baking soda has natural bacteria-removing properties. Mix a tablespoon of baking soda with 1/2 cup water, then place your retainer into the mixture. Let your retainer soak for about an hour. Then, rinse off your retainer, and you're good to go.
Avoid using hot water during cleaning. Hot water can warp your retainer, causing you to need a premature replacement. Instead, use warm water when cleaning and cool water when rinsing.
4. Avoid Harsh Cleaners
Stay clear of harsh cleaners when cleaning your retainer. Your retainer is sensitive to harsh cleaners, which is why you want to stick to the gentle cleaning recommendations outlined above. Some harsh cleaners to avoid include:
Mouthwash: Some mouthwashes include a high alcohol content to remove some of the bacteria in your mouth. Alcohol isn't good for retainers, as it dries them out and makes them more prone to damage.
Toothpaste: As mentioned above, toothpaste has abrasive qualities that wear down your retainer, making them more susceptible to things like cracks and warping.
Cleaning agents: The harsh chemicals in household cleaning agents strip away bacteria from frequently touched surfaces — not the plaque from your retainer. Like mouthwash, cleaning agents can dry out your retainer and make it more prone to damage.
5. Store Your Retainer Safely
When you get your retainer after your orthodontic treatment, your orthodontist will supply you with a small retainer case. Keep your retainer in this container whenever you aren't wearing it. Otherwise, you may lose it or accidentally expose it to harsh elements, like heat and sun exposure, which causes warping.
If your orthodontist says you only have to wear your retainers at night, keep your container next to your bedside table. That way, it's always within reach. Or, if your orthodontist tells you to wear it throughout the day, keep your case in your purse or backpack so you can easily store your retainer when eating.
EverSmile Helps You Keep Your Retainers Fresh
EverSmile started in 2013 when Dr. Michael Florman kept getting the same question from his patients — "How do I keep my aligners clean and fresh?" As a result, he created a reliable solution for his patients, the revolutionary cleaner, WhiteFoam. WhiteFoam is America's top-selling aligner cleaner because it's so effective.
WhiteFoam gets its fighting power from hydrogen peroxide. This ingredient is great at killing the bacteria buildup in your retainers, with the added benefit of whitening your teeth after continual use. Daily on-the-go use of WhiteFoam prevents bad smells, calcium buildup and general funk.
Do you currently have braces and are preparing for your retainer? We have a solution for you, too. We understand braces can be hard to clean, especially when food gets stuck around your brackets and wires. Make cleaning easy by using our OrthoFoam. All you have to do is brush with OrthoFoam for 60 seconds or rinse for 60 seconds. It'll remove any buildup while also whitening your teeth both around and under your brackets.
Discover EverSmile WhiteFoam and Place an Order Today
Are you ready to make the switch to WhiteFoam? WhiteFoam changes the game when it comes to keeping your retainers clean. By keeping your retainer clean, you're getting the most out of its lifespan and significantly reducing the chance of your teeth shifting in the long run.
Learn more about WhiteFoam by visiting our product page. There, you can easily place an order so you can benefit right away. If you have questions, contact us directly from our product page, too!
Liquid error (templates/article line 357): Could not find asset snippets/blog-widgets.liquid