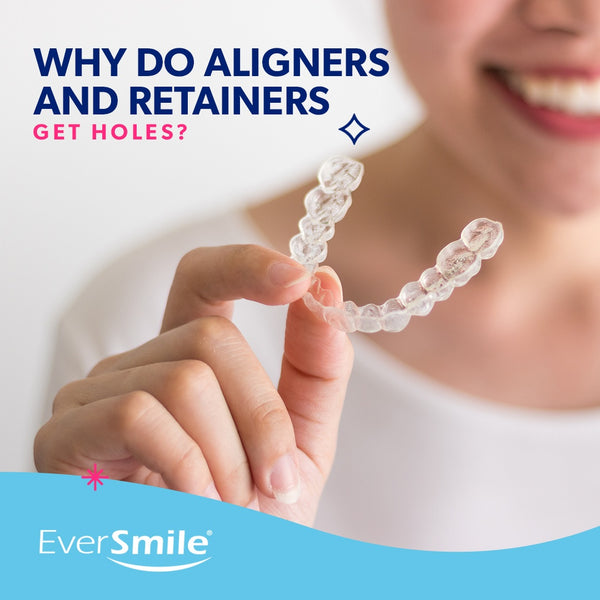 Why Do Aligners and Retainers Get Holes?
You wear your aligners almost all day, so it's not surprising that they can become damaged. But, why do aligners and retainers get holes and other damage? There are a few different ways this can happen. Take a look at the guide below to learn more about why your aligners may get holes in them — and what you can do to prevent holes from developing in the first place. 
What Are Teeth Aligners?
Aligners are clear orthodontic devices. They are custom and tight-fitting solutions that fit over your teeth but aren't as noticeable as braces. When you use teeth aligners, you'll receive a series of aligners to fit your progressively straightening teeth. 
How Long Do Aligners Last? How Often Do You Have to Replace Them?
How long your aligners last will depend on the issues you're correcting with your smile and what your dentist or orthodontist recommends. In general, you may have to change your aligners every week or so. Because you'll have your aligners on for up to 22 hours a day, they experience a lot of wear. That wear can lead to damage over time.
Even if your aligners are in perfect condition by the end of a week or two, you'll still need to replace them. Aligners adjust and straighten your teeth, meaning after a couple of weeks, the aligners won't fit the new shape of your smile. You'll get a new fit and new aligners to replace the old ones until your treatment is up.
What Are Some Common Signs You Need to Replace Your Aligners?
Aligners aren't made to be used and worn forever. Replacements are necessary on a regular schedule, but there may be emergencies between scheduled replacements where you need new aligners. Here are some signs that it's time to replace your aligners or retainer:
Lost: This sign is a bit more obvious than the others. If you lost your aligner or retainer, you should get a replacement as soon as possible. You won't want to leave your smile unassisted for long unless your orthodontist or dentist directs you to do so.
Discomfort: If your aligner or retainer gets uncomfortable, talk to your dentist or orthodontist. That may be a sign that it's time for a new fit or that the aligner is damaged.
Holes, cracks or other damage: If you notice damage in your aligner or retainer, bring it up with your dentist or orthodontist as soon as possible. They will likely recommend a replacement if you have severe issues.
What It Means If Your Aligners Develop Holes
When you have holes in your teeth aligners, that's more than a sign that you need to replace them. It's also a sign of damage, and different factors can cause that damage. If you grind your teeth a lot, either during the day or while you're sleeping, for instance, that could create holes in Invisalign aligners and other brands.
Grinding your teeth, also called bruxism, can happen when you experience stress or anxiety, and it can put hundreds of pounds of pressure on your teeth. When you wear aligners, that pressure exerts force on the biting surface, wearing it down. While you can wear aligners to help protect your teeth from grinding in your sleep, it means you'll have to replace them more often.
Brushing your aligners to clean them can also cause scratches, wear and holes over time. Toothpaste is abrasive, and that doesn't combine well with the thin material of aligners. You should also make sure the aligners you have fit in your mouth correctly. An improper fit can lead to holes or cracks as you struggle to get the aligners to fit around your teeth.
Risks of Continuing to Wear Your Aligners With Holes
Replacing your aligner or retainer if you notice holes is essential. While a small hole won't spell trouble right away, it can lead to risks and issues over time, like:
Cracking: Small holes throughout the biting surface of your retainer can develop into severe cracks, compromising how it fits in your mouth and benefits your teeth.
Uneven wear: Whether you grind your teeth or get holes in your retainers in other ways, the result will be a retainer with uneven wear. That means some parts may be thinner and possibly have holes while other areas still have the structure to benefit your smile. You're then helping one part of your mouth more than the other.
Discomfort or pain: Holes and cracks in your aligners can make them uncomfortable to wear. That's because the holes can alter how well the aligner fits, ruining the custom design.
Build-up: Scratches and holes in your aligners can be places for gunk and funk to settle. Even if you brush your teeth regularly and clean your aligners, holes welcome residue and bacteria. That could lead to anything from bad breath to a bad smell in your aligners and more severe issues for your teeth.
What Should You Do If Your Aligners Develop Holes?
If you notice holes in your aligner, don't panic. There are a few things you can do to avoid experiencing the risk of continued wear. Just take these steps if your aligner has a hole in it:
Contact your dentist: Talk to your orthodontist or dentist if you notice your teeth aligners have holes. If you're almost done with that set of aligners and the hole isn't severe, they may determine that it isn't an issue.
Keep an eye on the holes in your teeth aligners: If your teeth aligners have holes, check them every time you take them out and clean them to make sure the hole doesn't get bigger or become a crack.
Replace the aligners: A professional may recommend replacing your aligners if the holes are severe, especially if it's early on in your treatment with a specific set. They might also recommend waiting for replacements instead of wearing the damaged aligners.
How to Prevent Holes in Aligners
A few simple steps can help keep the material intact and get you the benefits you need from your aligners. Talk with your dentist or orthodontist to learn how to prevent holes in your teeth aligners, but in general, you can also follow these tips:
Care for them correctly: Learn how to care for aligners correctly to avoid damaging them. Keep them away from heat and out of direct sunlight and clean them as directed.
Replace as directed: As you wear an aligner, your teeth will shift into a straighter position. Over time, your original aligner won't be the right fit for your mouth, and you'll need to change it. Be sure to get a new aligner as directed by a professional to avoid creating holes or cracks in an aligner that doesn't fit.
Choose trusted brands: If the holes in your teeth aligner aren't caused by grinding or care issues, you may have an aligner with a manufacturing defect. Choose trusted brands for your aligners that can scan your mouth directly or have other fool-proof ways of determining the shape and size of your aligner. Of course, even the most trusted aligner brands can develop holes and other damage with improper care.
Care for Teeth Aligners With EverSmile
Prevent bacteria growth and care for your aligners the right way with WhiteFoam from EverSmile. This aligner cleaning solution is fast and simple to use, with no soaking or rinsing necessary. All you do is pump WhiteFoam into your aligner trays, pop them in and go about your day.
Our solution can help freshen your breath, keep your aligners crystal clear and whiten your teeth, all while you're wearing your aligners. WhiteFoam is also designed to be tough on bacteria but gentle on your aligners, helping to keep them clean and intact.
Shop WhiteFoam today from EverSmile and see how simple it can be to keep your aligners crystal clear!
Reviewed By Michael Florman, Updated on 12/8/21
Liquid error (templates/article line 357): Could not find asset snippets/blog-widgets.liquid