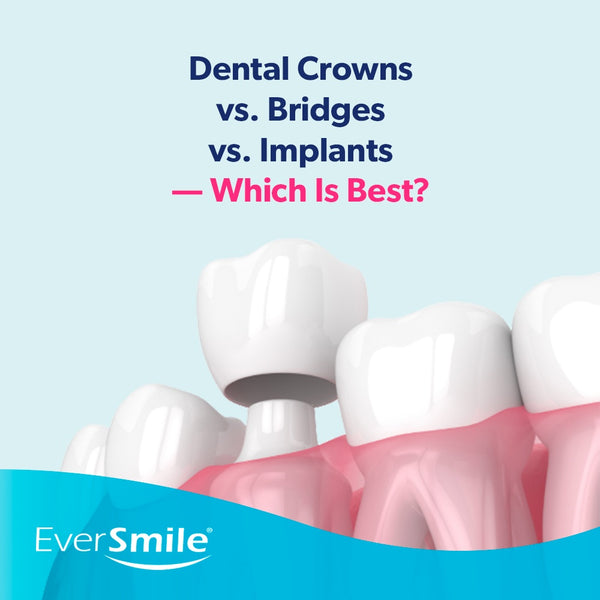 Dental Crowns vs. Bridges vs. Implants — Which Is Best?
If you've ever thought about replacing a missing tooth or trading in your uncomfortable dentures, then you've probably considered your options — dental crowns, bridges or implants. So what's the difference between the three? 
Dental implants, crowns and bridges are relatively similar as they replace any fractured or missing teeth. But each has its own characteristics that can impact your or your dentist's decision. Here, you'll learn more about each of your options so you can better decide which is best for you.
Dental Crowns
A dental crown is a tooth-like cap that goes over your natural tooth. A dental crown restores a tooth to its original shape, size and function. 
Dental crowns are crafted using many materials, including metal alloys, ceramics, porcelain or composite resin. A dental crown is matched to your unique smile, designed to blend in with your other natural teeth.
A dentist might recommend dental crowns for two primary reasons:
Practicality: The most common use for dental crowns is to restore any damage. For instance, if you've had too many fillings, your tooth will require a dental crown for structure. Or, if you have a fractured tooth, the most reliable method of fixing it is using a dental crown.
Aesthetics: Some people want to restore their missing or damaged teeth. Dental crowns resemble natural teeth, making them good solutions for people looking to enhance their oral aesthetics.
How Do You Know if You Need a Dental Crown?
One of the biggest signs that you need a dental crown is if you're experiencing tooth pain. There are many causes of tooth sensitivity — cavities, brushing too hard, eating acidic food. But, if your toothache is severe, it may indicate a compromised tooth. A cracked or broken tooth, for instance, can cause tooth sensitivity.
You might notice a sensitive tooth when you eat or drink foods that are really hot or cold. Brushing and flossing might also cause issues. If you're experiencing tooth sensitivity, go to the dentist. They'll let you know if you need a filling, a dental crown or something else to resolve your toothache.
How Is a Dental Crown Attached to a Tooth?
Don't be nervous when scheduling your appointment to get a dental crown attached. The process is simple and usually takes two dental visits to complete. To attach a dental crown to your tooth, your dentist will:
Prepare the tooth: Your dentist will prepare your tooth for the dental crown by filing down the outer portion of your natural tooth. The crown can then comfortably slide into place on top of your natural tooth's core. If you're missing a tooth or have a compromised core, your dentist will build up your tooth's core to support the crown.
Make an impression: Next, your dentist will make an impression, or an imitation, of your tooth. They may use a mold or digitally scan your tooth depending on the office's capabilities.
Place a temporary crown: It will take around two weeks to make your crown from the impression. During that time, your dentist will place a temporary crown. Be cautious when eating sticky foods or chewing gum while wearing the temporary crown.
Place your permanent crown: Once your crown is ready, your dentist will invite you back into the office. During your second appointment, they will remove your temporary crown and permanently place your dental crown.
Is It Painful to Get a Dental Crown?
Getting a dental crown isn't painful because dentists use anesthetics or sedation to numb any pain. Before your dentist prepares your tooth, they will apply a local numbing agent. Some dentists will even let you opt for sedation if you're feeling overly anxious so you won't feel anything happen on or around your tooth.
During your second appointment, when your dentist places your permanent crown, there is a lesser chance of experiencing pain. Still, your dentist will use a local numbing agent before securing your crown. So rest easy because you likely won't feel anything except a bit of pressure.
How Long Do Dental Crowns Last?
Dental crowns can last anywhere between five and 15 years. Dental crown longevity depends largely on your oral hygiene. Use EverSmile OmniFoam, and be sure to brush, floss and use mouthwash. Eating and certain habits can also influence how long your dental crowns last. Avoid oral habits like chewing on ice, biting your fingernails and using your teeth to open packaging.
How Much Do Dental Crowns Cost?
On average, dental crowns can cost hundreds or thousands of dollars. Costs depend on what crown material you choose and any anesthetic or sedation used. Some crowns, like stainless steel, can cost hundreds of dollars, while porcelain crowns can cost a few thousand dollars. If you have dental insurance, your insurance provider may cover a portion of the costs, but be sure to look into your coverage.
What Are the Advantages and Disadvantages of Dental Crowns?
Compared to dental bridges and implants, dental crowns are relatively quick solutions. Expect two short trips to the dentist's office, separated by a few weeks for your doctor to make the tooth and crown impressions. Both procedures — filing down the natural tooth and applying the crown — are painless, as your dentist will use a local numbing agent.
Dental crowns are less expensive, too. A possible disadvantage is your insurance may or may not cover the costs.
Dental Bridges
A dental bridge fills the space between one or more missing teeth. Two dental crowns anchor the bridge, placed at either side of the missing teeth. The middle is filled with false teeth — called pontics — which are made from gold, metal alloys, porcelain or a mixture of all three.
There are three types of dental bridges:
Traditional bridges: The most common type of dental bridge is a traditional bridge, consisting of two anchors and a pontic placed in between. The teeth on either side of the pontic are usually healthy in this scenario.
Cantilever bridge: What happens when there is only one adjacent tooth? Dentists will either recommend not filling the tooth or a cantilever bridge. It's similar to a traditional bridge but is anchored only by one dental crown and a healthy tooth.
Maryland bonded bridges: A Maryland bonded bridge has a metal framework that supports porcelain or plastic teeth with gums. The metal framework has wings, which secures in your mouth by attaching to your adjacent natural teeth.
How Do You Know if You Need a Dental Bridge?
Dental bridges are typically seen as a cosmetic procedure. If you're missing a tooth and want to fill the gap, you're likely going to want a dental bridge. The decision is ultimately up to you!
How Is a Dental Bridge Attached?
The process of getting a dental bridge is very similar to getting a dental crown. The entire procedure is broken down into at least two appointments, sometimes more depending on the follow-up procedures unique to each dentist.
To attach a dental bridge, your dentist will:
Prepare the teeth: Your dentist will prepare for the bridge by placing a dental crown on the two adjacent teeth. To do this, they will remove the outer layer of the tooth, creating room for the dental crown to fit.
Make impressions: Your dentist will also make impressions of your bridge, pontic and dental crown during your first visit. They may use a mold or digitally scan each impression.
Place a temporary bridge: Before your next appointment, your dentist will design a temporary bridge so you aren't leaving the office with fewer teeth than you arrived with. Be careful with your temporary bridge by avoiding certain foods, like chewing gum or sticky candy.
Place your permanent dental bridge: During your second appointment, your dentist will have your permanent dental bridge ready for application. They'll numb the area and apply the bridge, making sure it's a good fit.
Your dentist may request follow-up visits after your two appointments to make sure the bridge fits properly. If you get a fixed bridge, your dentist may choose to temporarily cement it into place before permanently cementing it during a follow-up visit.
Are Dental Bridges Painful?
Dental bridges aren't painful to get. They're similar to receiving a dental crown, where your dentist will apply a numbing agent that prevents you from feeling anything.
It's normal for you to feel some soreness after your procedure. But the discomfort should completely alleviate within a few days. If the pain continues, contact your dentist, as they may need to adjust the dental bridge's placement.
How Long Do Dental Bridges Last?
Your dental bridge will last you between five and 15 years, with an average of over 10 years. Get the longest dental bridge lifespan by practicing good oral hygiene and attending regular dental checkups twice a year.
How Much Do Dental Bridges Cost?
At a minimum, dental bridges cost a few thousand dollars depending on the type of bridge you receive. Traditional and cantilever bridges are generally more expensive than Maryland bridges. Total cost varies depending on the materials used and any anesthetic or sedation. Some insurances may cover the dental bridge procedure, but others recognize it as a cosmetic procedure and may not cover any costs. Check with your insurance provider to see what procedures they cover for you.
What Are the Advantages and Disadvantages of Dental Bridges?
The biggest benefit of dental bridges, especially when compared to dental crowns and implants, is they fix multiple adjacent missing or fractured teeth. But because they operate on multiple teeth, expect a longer dentist visit and more impressions. Consequently, dental bridges are more expensive than dental crowns, and your insurance may not cover the cost.
Dental Implants
Dental implants are artificial teeth that are surgically implanted into your jawbone. They include an implant, which resembles a screw going into your jawbone, a connector placed on the implant and an artificial tooth base called a crown.
Compared to a dental crown and bridge, dental implants are the strongest devices for teeth replacement. They look, function and feel like real teeth.
How Do You Know if You Need a Dental Implant?
Your dentist will look for a few signs to determine if you need a dental implant:
Missing or chipped teeth: If you have missing or chipped teeth that you want securely replaced, you may want a dental implant. Dental implants can allow you to eat, talk and live your life comfortably.
Ill-fitting dentures: Are you noticing discomfort when wearing your dentures? Ill-fitting dentures can feel very uncomfortable. Your dentist may recommend a more permanent solution, like dental implants.
Infection: Teeth can get infected. Your dentist may recommend preventing the infection from getting worse by removing the tooth and adding a dental implant.
Deteriorating jawbone: If you've been missing teeth for a long period, your jawbone may begin to recede or deteriorate. Dental implants can replace the tooth structure and prevent the jawbone from receding any further.
What Is Dental Implant Surgery Like?
Dental implant surgery is broken into two parts — the actual surgery and the recovery period. When getting dental implant surgery, your dentist will:
Perform an initial evaluation: Before surgery, your dentist will schedule an appointment to perform an evaluation. During your evaluation appointment, expect to get X-rays so your dentist can examine the condition of your jawbone. You may also be given antibiotics to prevent infection post-surgery.
Extract the impacted tooth: If you have any teeth remaining, your dentist will remove them before performing the dental implant surgery. They'll usually do this at the same time as your surgical appointment.
Insert the dental implant: During surgery, your dentist will add the screw-like implant into your jawbone. After surgery, your jawbone will begin to accept and grow around the dental implant. This process will take anywhere from three to nine months.
Connector placement: Once your dental implant is secure, your dentist will invite you back into their office to apply the connector. Its function is to hold onto the crown and is visible when you smile without a crown inserted.
Add the crown: With your connector in place and after your gums heal, your dentist will apply the permanent or removable crown, depending on your preference.
How Painful Is a Dental Implant?
Dental implant surgery isn't as painful as it sounds because dentists use anesthetics to prevent you from feeling anything. You might feel pressure as teeth are pulled or the implant is inserted, but that's about it.
You may experience some mild discomfort during recovery. But you can easily manage the pain using an over-the-counter pain reliever. You might also be instructed to:
Avoid straws for 24 hours
Rinse your mouth with salt water three to four times after 24 hours
Avoid hot foods or drinks 48 hours
Avoid smoking for at least 72 hours
Your dentist or oral surgeon will give you specific suggestions following your surgery, so be sure to follow their guidance first.
How Long Do Dental Implants Last?
The dental implant and connector itself will last for a lifetime. The crown, however, will last around 15 to 20 years. Maximize the life of your crown by brushing and flossing regularly and by attending regular dentist visits.
How Much Do Dental Implants Cost?
A single dental implant costs thousands of dollars, and full-mouth dental implants can cost tens of thousands of dollars. Costs vary depending on the:
Crown
Connector
Tooth extraction
Office visit cost
Pre-op care
Post-op care
Some dental insurances won't cover dental implants if seen as a cosmetic procedure, while other dental insurances will cover a portion of the dental implant cost itself.
What Are the Advantages and Disadvantages of Dental Implants?
Dental implants are great solutions for people with missing or impaired teeth, as they look and function just like real teeth. But implant surgery is more invasive than dental crown or bridge alternatives. 
Expect multiple dental visits across three to nine months, accounting for recovery time from surgery. All appointments are relatively painless, however, with the use of sedation or anesthetic. You may experience discomfort during recovery, easily managed by an over-the-counter pain reliever.
Another potential disadvantage of dental implants is their cost. When you account for surgery costs and impressions, dental implants can cost thousands of dollars, compared to the lower costs of dental crowns and bridges.
Dental Crowns vs. Bridges vs. Implants: Which Is Right for You?
It's normal to have a lot of questions when considering your oral health, including which solution is right for you. Ultimately, you and your dentist or oral surgeon will decide the best course of action, but you may have to decide between these solutions.
Is It Better to Get a Dental Implant or Bridge?
The best way to decide between a dental implant or bridge is to talk with your dentist. Both are good options for people who are missing teeth and want to restore their smiles. If you're experiencing infection or a deteriorating jawbone, then a dental implant may be your best option.
Is a Dental Crown or Bridge Better?
The answer depends largely on the problem you're trying to solve. Both restore your smile, but in slightly different ways. Dental crowns are better suited for people with a damaged or fractured tooth, extensive tooth decay or a misshapen tooth. Dental bridges are best for people who are missing a tooth and want a more secure repair.
Do Dental Crowns, Bridges and Implants Feel Natural?
When trying to understand the difference between crowns, bridges and implants, you might be concerned about how they'll feel. At first, your dental crown, bridge or implant may feel unusual. The crown, although it resembles your natural tooth, will feel different than your real tooth did. The feeling will subside over time as you get used to your new crown or device. Your dental crown, bridge or implant should feel natural. Talk to your doctor if you have any discomfort, as it may be an alignment issue. 
Take Care of Your Smile With EverSmile
EverSmile is dedicated to making your smile healthier. Our story started in 2013 when Dr. Michael Florman found a solution to helping his patients keep their aligners fresh and clean. From there, EverSmile created FreshDent and continued growing and introduced a collection of oral hygiene products, including OmniFoam.
Use OmniFoam to Clean Implants, Bridges and Crowns
Poor oral hygiene can cause gingivitis, which occurs when plaque — a sticky film made of bacteria — builds up on teeth. For people with dental implants, bridges or crowns, bacteria buildup can lead to peri-implantitis, a buildup of bacteria in the gums surrounding the dental implant.
Keep your smile clean using OmniFoam, our dental implant, bridge and crown cleaner that:
Removes biofilm
Kills 99.999% of bacteria
You can use OmniFoam in three ways — applying it directly to the implant area, rinsing with it for 60 seconds or pumping it into a dental tray and applying for 3 minutes. The OmniFoam formula is extremely effective, and a single bottle can last you up to two months!
Order OmniFoam Online Today
Are you ready to take charge of your oral health? Keep the area around your dental implants, bridges or crowns healthy by using EverSmile's OmniFoam. Place an order online directly through our OmniFoam product page. Have any questions? Contact us online!
Liquid error (templates/article line 357): Could not find asset snippets/blog-widgets.liquid