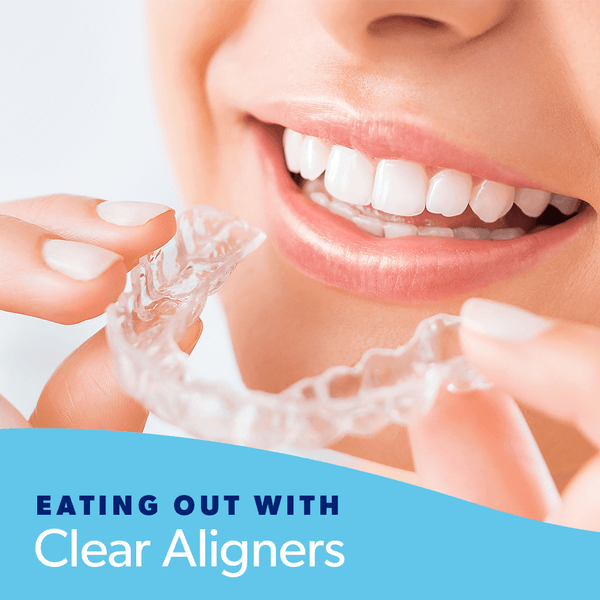 Eating Out With Clear Aligners
The COVID-19 pandemic has brought about many changes. However, one thing that has remained consistent is the necessity of taking care of your clear aligners in between meals. One major perk of wearing removable clear aligners is unlike traditional braces, you have the freedom to eat whatever foods you like. However, you'll still need to follow certain steps to make sure you're protecting both your teeth and your aligners from damage.

With restaurants reopening for dine-in eating, you can enjoy a meal out while continuing your aligner treatment. When it comes to eating out with Invisalign or other aligner brands, remember these helpful habits your teeth and your body in the best health possible!
Can You Eat With Clear Aligners?
Can you eat with a clear aligner on? Always remember that you must remove your aligners before eating and drinking anything except plain
 water
. That's because food particles may get stuck in your aligners if you don't remove them to eat, and beverages other than water such as juice and coffee can discolor them.
Since your teeth are super strong, chewing while wearing aligners can also crack them and cause them to break down. Even "just a little nibble" or eating relatively soft food while wearing aligners can result in damage, and since you would have to clean them anyway after eating, it's best to take them out entirely whenever you eat.
Plan Your Meals
Even when you don't need to know ahead of time what you'll be eating, it can help to know when you'll be eating and for how long. Removable clear aligners require 20 to 22 hours of daily wear time for the best results, so it can help to keep track of time to avoid feeling rushed during your meal.

By making a mental or physical note of the amount of time your aligners are out of your mouth, you'll be more likely to meet the 20-hour-minimum of daily wear. Going out to eat with removable clear aligners can also help you be more mindful about snacking and what food choices you make, which is good for your teeth and health.
Tips for Maintaining Your Clear Aligners When Eating Out

When you go out to eat in a post-COVID-restricted world, you want to be able to enjoy your meal and time with those around you. If you need to wear Invisalign or other aligners when eating out, it's also essential to avoid compromising the progress of your treatment, damaging your aligners or exposing your aligners or yourself to possible infection.

When it comes to eating out in restaurants,
follow this process
each time
for a few simple steps to a straighter smile
and healthy aligner habits:
1.

 

Before Your Meal

As you get ready to dig into your food, make sure to take your aligners out. While it's a quick and easy process you've likely done countless times already, you want to ensure you don't forget to do so while you're out at a restaurant. Before you gently remove your aligners, however, you need to wash your hands.


The Centers for Disease Control and Prevention maintains that washing and sanitizing your hands is one of the best lines of defense against sickness and infection. When you need to remove your aligners, wash your hands for at least 20 seconds, or use hand sanitizer gel or wipes to ensure your hands are germ-free.
2.

 

During Your Meal

You want to be careful to keep track of your trays when eating out as soon as you remove them from your mouth. While it may be tempting to place your aligners on a napkin or the nearest surface while you're eating, you should always place them in a sealed container, such as their case. Keeping your aligners somewhere safe will help protect them from germs and keep you from accidentally throwing them away.

As we mentioned earlier, you also want to make the most of your time management while eating.

 

We recommend skipping the appetizer or dessert, as with three meals a day plus snacks, the time spent without wearing your aligners can add up quickly.
3.

 

After Your Meal

Once you're done with your food, you'll need to brush and floss to remove all food particles and plaque from your teeth and along your gum line. Rinsing your mouth will also help to remove any leftover food which could become trapped in your aligners and possibly allow decay to set in.

However, sometimes heading to the restaurant bathroom to give your teeth a thorough brushing isn't the most practical or viable option. Maybe you're pressed for time, or maybe your restaurant's public restroom doesn't exactly look like the kind of place you want to hang out in and brush your teeth. Fortunately, we have you covered.
4. EverSmile's Solution
It's vital to keep your teeth clean between meals and when you have to replace your trays. EverSmile offers several effective and reliable ways to keep your aligners clean and fresh when eating out, including:
Use a pump of WhiteFoam:

 

WhiteFoam

 

is another popular EverSmile product for cleaning clear aligners, removing buildup and whitening teeth.

 

Using our WhiteFoam to clean your aligners can also help whiten your teeth and aligner trays.

 

While the bottle is a little bigger than the pocketable AlignerFresh size, it's still an easy, on-the-go product to keep your smile bright and your aligners clean after eating a meal out.

Take advantage of AlignerFresh:

 

AlignerFresh can

 

easily

 

fit into a pocket or slip into your bag

.

 

You can spritz some AlignerFresh spray onto your trays and pop them right back into your mouth. The spray is made of a hydrogen peroxide-based formula that can kill 99% of bacteria while it freshens your breath and cleans your teeth, and eliminates any need for brushing, soaking or rinsing.
As aligners hug your teeth, practicing proper oral care with these products in between meals and tray insertions will ensure you preserve your oral health and keep your aligners in excellent shape. Lastly, always remember to wash your hands thoroughly before placing your aligners back inside your mouth. With these methods in mind, you'll be ready to resume your day —
as easy as that.
Purchase Your On-the-Go Aligner Cleaning Supplies Today
Even in the midst of the COVID-19 pandemic, you can achieve a straighter smile safely and effectively while dining in style. When you want to eat out at restaurants, EverSmile makes it easy to clean your aligners without the fuss of washing them and brushing your teeth in a public restroom.
Browse our
AlignerFresh
and
WhiteFoam
bottles for
an excellent addition to your aligner to-go care kit
. Our products will keep your aligner trays clean and fresh after your meal, so you can pop them back in and go on with your day.
Updated by EverSmile on 12/8/21
Liquid error (templates/article line 357): Could not find asset snippets/blog-widgets.liquid