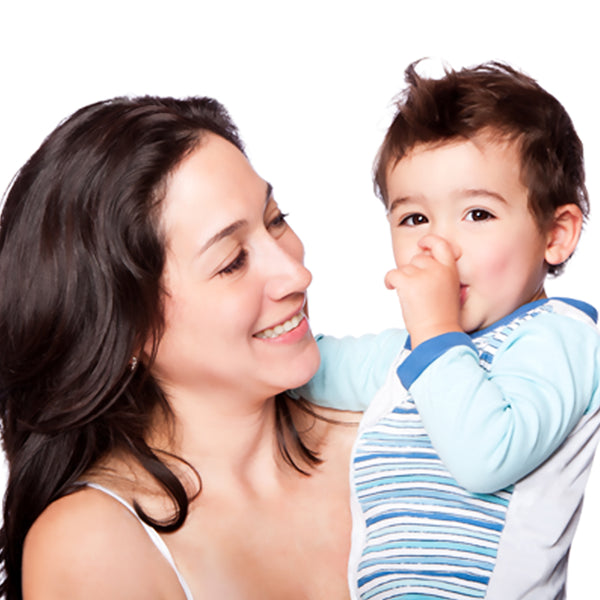 Things to consider when it comes to your kid's teeth from Dr. Schwartz
EverSmile recently stumbled upon this informative article where Dr. Schwartz answers your burning questions on how to maintain dental hygiene for your kids. Questions such as: Does tooth decay in baby teeth really matter? When should kids start brushing? What's the best braces options? All these questions and more will be answered below.
Tooth brushing routine
Start cleaning your baby's teeth as soon as the first tooth appears using a wet cloth or a small children's toothbrush with water. From toddler-hood, encourage littlies to softly brush their teeth and gum lines with a pea-size amount of fluoride-free children's toothpaste in circular motions for at least two minutes, twice daily after meals. Don't get too stressed about their technique at this stage, advises Dr. Schwartz. "A child who is six won't have the dexterity to brush their teeth properly so assistance is required," he explains. "That's OK. We just want them to get into the habit of brushing and practicing good oral hygiene - protecting their baby teeth, gums, bite and fostering healthy jaw development."
By eight, children usually have a firm grip on teeth brushing, but parents should still play an active role by ensuring they are hitting every spot, and looking for obvious signs of plaque.
Schedule six monthly dentist check-ups and book them in to see an orthodontist at around age seven. "Orthodontists specialize in teeth straightening, jaw alignment and bites," says Dr. Schwartz. "Early intervention orthodontics is vital in order to recognize any concerns in the dental structure, such as teeth, bite, or jaw alignment issues, while kids are still developing. By identifying these issues, we can formulate treatment plans to reduce, correct or eliminate surgery or extensive orthodontic treatments in the future."
Tooth decay
Childhood tooth decay can cause many negative effects including impacted teeth and infection resulting in premature tooth loss. When baby teeth fallout too early, it can affect a child's future bite, facial profile, speech, confidence and more. "Baby teeth help guide the correct positioning of your child's adult teeth, and can support the development of a healthy jaw," Dr. Schwartz says. "This is why it is really important to teach your child to maintain good oral health, to avoid premature tooth loss or extraction."
To protect your child's pearly whites, you and your dentist need to check teeth for decay regularly, which appears in the initial stages as dull white bands on the tooth surface close to the gum line or darks spots on the biting surfaces of the large molars. Progressive decay is often more yellow, brown or black, while black or brown stumps typically represent advanced decay.
Prevention is still far better than cure, so please avoid giving your baby a bottle of milk in bed, and also avoid sugary drinks (including fruit juices) and candy!
Teeth straightening 101 
Today's braces have a memory wire that straightens teeth, and they're available in more subtle varieties too. You can now also go for a series of removable trays, called clear aligners. Thankfully, you won't have to research all the options because your orthodontist will recommend a treatment plan based on your child's needs.
Here's the basics:
Braces are usually recommended for straightening teeth and correcting the bite during the teenage years. Why? "The adult teeth have erupted, but there is still facial growth and development and the mouth is more malleable," explains Dr. Schwartz. "They are metal (made of stainless steel) and are still the most commonly used appliance."
Lingual Braces are for those who want less noticeable braces and are attached to the inside surfaces of your teeth, instead of the front.
Ceramic braces are often favored by adults as they're less noticeable than standard metal braces, with clear or tooth-colored brackets and optional tooth-colored wires
Clear Aligners (such as Invisalign) are a series of removable thin plastic trays that gradually align the teeth and can be easily taken in or out.
Plates are hard plastic devices that fit around the top teeth, the bottom teeth or sometimes both. They use wires and springs to push the teeth into position, or to hold them in place as other adult teeth enter your child's mouth.
Over or underbite affecting jaw alignment
A misaligned bite isn't just an aesthetic issue affecting the face profile, it's also a functional issue. "Aligned bites improve the function of the jaws, mouth and teeth, which can help your child with crucial daily actions such as speaking and eating," explains Dr. Schwartz. "Straight teeth are also easier to brush and floss, optimizing your child's oral health." However, while some teeth placement issues, such as buck teeth caused by prolonged thumb or finger sucking or tongue thrusting are attributed to habits, other issues are genetically based. "The normal gap between the upper and lower teeth is about 2mm, so if the deviation is 4-8mm, we can usually deal with that by moving the teeth around to camouflage the gap," says Dr. Schwartz. "However, for major discrepancies, facial or jaw alignment, a combination involving jaw surgery along with orthodontics is typically required."
Source: https://www.theage.com.au/lifestyle/health-and-wellness/5-things-to-consider-when-it-comes-to-your-kid-s-teeth-20180802-p4zv6l.html
Dr. Florman, who practices in Los Angeles, is considered to be one of the top Invisalign providers in the country and has over 25 years of consulting experience for oral care companies including for Colgate, Arm & Hammer, and others. Dr. Florman has invented multiple dental products and has brought several products from inception to commercial success. For more information about the company and products, visit their site at: www.eversmilewhite.com.
About EverSmile
Located in Los Angeles, EverSmile's mission is to create new and advanced oral care products that will change patients' lives. Currently in development are our new sensitivity-free whitening agents, dry mouth formulations, low-abrasion toothpastes, and a complete children's dental line. For more information about the company and products, visit their site at: www.eversmilewhite.com
Liquid error (templates/article line 357): Could not find asset snippets/blog-widgets.liquid