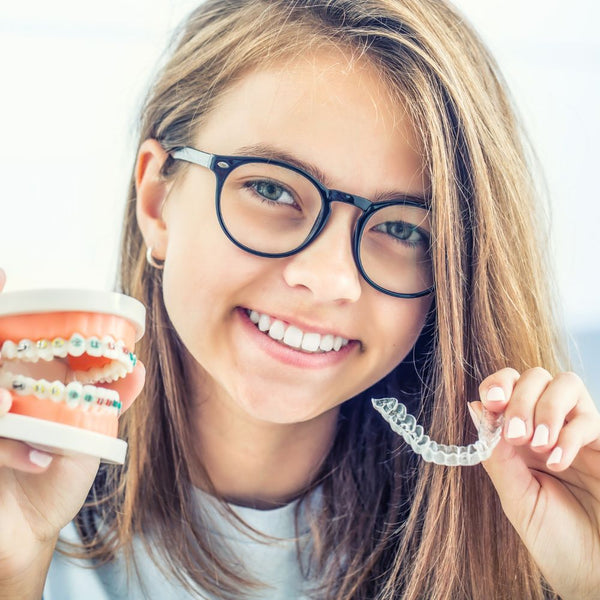 Wearing a Retainer After Braces: What You Need to Know
Getting a retainer is the last step in your orthodontic treatment. But why do you need to wear a retainer after braces? Once your braces are taken off, your teeth will start to shift slightly. Wearing a retainer holds your teeth in place so they can settle permanently in their new positions. 
What else do you need to know about wearing a retainer? We've put a few of the essential facts together.
Types of Retainers
There are three types of retainers:
Bonded retainer: Bonded retainers, also called fixed retainers, are attached to your teeth after your braces are removed. A thin metal wire is bonded to the back of your teeth, so the retainer will not be visible when you smile. These types of retainers are not removable, making them ideal for patients who need to wear a retainer all the time or who do not want to deal with a removable retainer. It is common for bonded retainers to only be used on the bottom set of teeth and a clear retainer used on the top set of teeth. This is due to people's bite structure and the likelihood of the bonded retainer coming off of the top teeth when biting down.
Hawley retainer: Hawley retainers are made with an acrylic piece that goes on the bottom or roof of your mouth and a wire that rests on the front of your teeth. It's visible when you smile, but it's also removable. This option is commonly being replaced by clear retainers.
Clear retainer: Clear retainers are made from transparent plastic molded to fit your teeth's new position. They are removable and virtually invisible, making them a popular choice. 
What to Know About Wearing a Retainer After Braces
You can expect several things when you wear a retainer. Keep in mind that:
It can take some getting used to. Just like when you wore your braces, retainers will take getting used to. It usually takes about a week for it to become natural feeling.
Your retainers shouldn't hurt when putting them in. They should feel tight because this is what is keeping your smile in place, but they should never hurt or make your teeth feel like they are moving. If so, contact your orthodontist.
Your speech may be affected a bit. Talking while wearing your retainer may take a few days to get used to. Try talking more slowly at first until you become comfortable with the feeling of the retainer in your mouth.
Your saliva production may increase. Excess saliva is your body's natural response to having a foreign object in your mouth, but it will go away after the first few days. 
Timing varies. The amount of time you will need to wear your retainer depends on the type of retainer you have and your orthodontist's recommendations. There is no one-size-fits-all solution when it comes to timing — but the more consistent you are about wearing your retainer, the better your results will hold. 
They are your best friend for life. Retainers are meant to hold your smile in place for years to come. It can be easy to slack off at times, but remember, consistent use and care are what keeps your smile in place. For bonded retainers, this means you'll need to properly clean behind the bonded wire and for removable retainers, this means using them consistently as well as cleaning and storing them properly. We far too often see people having to go through treatments again because of improper retainer use - protect your investment and your smile.
Retainer Care Tips
Plaque and bacteria can quickly build up when you wear a retainer, so it's essential to keep your retainer clean. EverSmile's WhiteFoam retainer cleaner is specially formulated to kill bacteria in your retainer and on your teeth. Simply spray the foam evenly in your retainer, insert it and spit out any excess foam. 
If you have a bonded retainer, use can also use a floss threader to floss the retainer and the front of your teeth. When you brush, make sure to angle your toothbrush around the retainer to remove as much plaque and food particles as possible. 
EverSmile Retainer Cleaners
EverSmile products keep your retainer clean and bacteria-free for exceptional oral health. Shop online or find our products at a location near you. 
Liquid error (templates/article line 357): Could not find asset snippets/blog-widgets.liquid