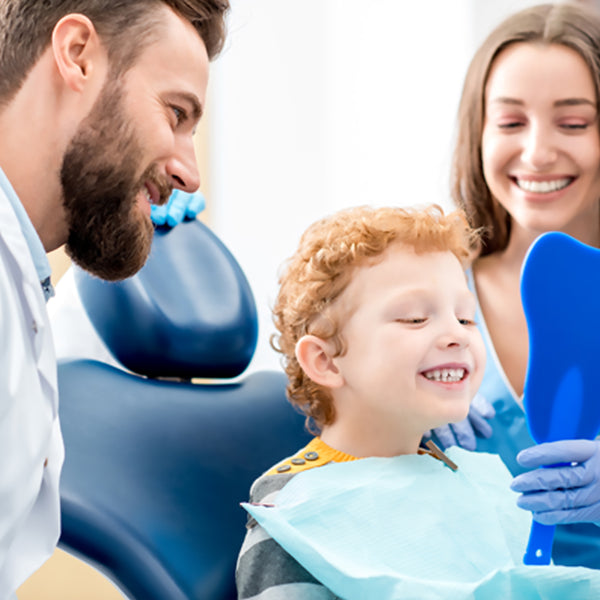 When should kids go to the orthodontist?
In the past, orthodontic treatment was primarily performed during teenage years. Now, many children start treatment at a much younger age. Adults are also getting braces way into their 40s and 50s
At what age to consider braces?
Traditionally, metal braces are tailored to a child's adult teeth to realign their teeth into a straighter position. This is why orthodontist generally start orthodontic treatment with children 10 years and older. However, overcrowded and crooked adult teeth usually happen when there's a limited amount of space within the mouth or a problem with jaw growth or both. Many orthodontists have discovered that checking children for these problems at younger age and before the arrival of a child's adult teeth will help them intervene better. Early intervention can provide adult teeth with all the space they need and some children may not have to wear braces at all!
Plates vs. braces
The main thing to remember with orthodontics is that each case is unique to ensure the best possible results. Each case is evaluated accurately before a custom treatment plan is created for the individual. 
Using adjustable, removable plates can help the jaw grow to the right size and shape, forming the mouth with the space needed for the new adult teeth to come through. Sometimes a combo of both plates and braces are required with plates being used first followed by braces. One disadvantage in using removable places with children is that they are removable. Kids often don't follow instructions. They forget to wear their plates as directed by the doctor, the plates get lost or broken and many months of treatment and money are lost.
With most adults, using a series of custom-made clear aligners can correct simple alignment issues.
Watch out for these teeth and bite conditions
Humans have two jaws, the upper jaw (maxilla) and the lower jaw (mandible). The upper jaw is part of our skull and doesn't move. The lower jaw is a long, curved bone with joints on each end that helps us to talk, eat and swallow.
An ideal situation for orthodontics is to have all teeth lined up in each jaw. The teeth of the lower jaw should fit perfectly inside those of the upper jaw when we bite down. An overbite is caused when the upper jaw is too far forward or too big or both. An overbite can also be caused by the lower jaw being too far back or too small or both. An underbite is when the upper jaw is too far back or too small or both. This can also occur when the lower jaw is too far forward or too big or both.
The overcrowding of teeth in the lower jaw happens when the lower jaw is too small for all the teeth or because the upper jaw is too small and the lower teeth cannot fit inside the upper jaw arch. Sometimes the teeth in the upper jaw are pushed out by the trapped lower jaw, causing the front teeth to protrude outwards. Clenching or grinding teeth, migraine headaches, severe earaches, chronic neck, back and shoulder pain can all be associated with a lower jaw that is trapped inside the upper jaw.
Today, many orthodontists agree, the latest advancement in orthodontics has been early intervention, and checking jaw growth and facial development at a younger age is the new basis of orthodontic planning. It isn't just merely trying to straighten crooked teeth with braces or aligners anymore. It's about your whole mouth, not just your pearly whites!
And for kids with braces, EverSmile offers OrthoFoam, the fun way to clean braces. You can order OrthoFoam on our website, on Amazon, or at CVS!
Source: https://www.health24.com/Medical/Oral-health/Kids-teeth/when-do-kids-need-to-go-to-the-orthodontist-20180221-2
Dr. Florman, who practices in Los Angeles, is considered to be one of the top Invisalign providers in the country and has over 25 years of consulting experience for oral care companies including for Colgate, Arm & Hammer, and others. Dr. Florman has invented multiple dental products and has brought several products from inception to commercial success. For more information about the company and products, visit their site at: www.eversmilewhite.com.
About EverSmile
Located in Los Angeles, EverSmile's mission is to create new and advanced oral care products that will change patients' lives. Currently in development are our new sensitivity-free whitening agents, dry mouth formulations, low-abrasion toothpastes, and a complete children's dental line. For more information about the company and products, visit their site at: www.eversmilewhite.com
Liquid error (templates/article line 357): Could not find asset snippets/blog-widgets.liquid