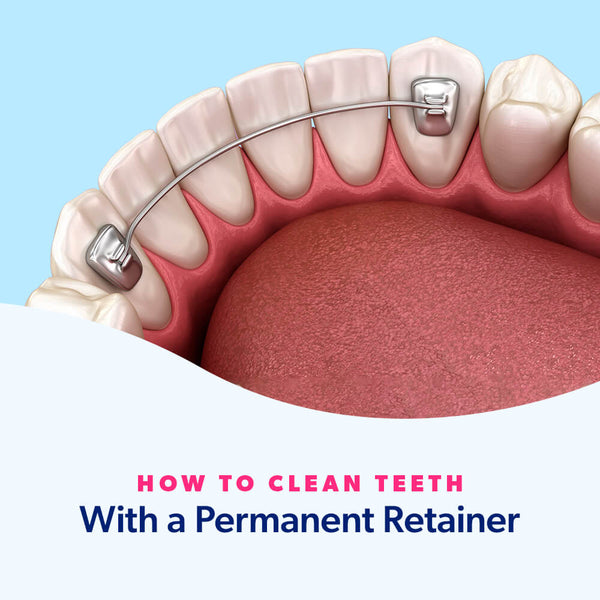 How to Clean Teeth With a Permanent Retainer
Congratulations on finishing with your braces and achieving a beautiful, bright smile! You might be wondering how you can now maintain your new smile and keep it looking its best. Permanent retainers are a common way to keep your teeth aligned and prevent them from becoming crooked. If you're wondering how to keep your teeth and retainer in tip-shop shape, then you've come to the right place. Learn our top tips for making cleaning your permanent retainer a piece of cake!
How to Keep Your Teeth Clean With a Permanent Retainer
Permanent retainers are a common way to keep your teeth from moving by placing a small wire along the back of your teeth. This method means you won't have to remember to take your retainer in or out throughout the day. These retainers offer an easy way to keep your smile straight and come with a specific cleaning process.
Because your orthodontist permanently fixed your retainer to your teeth, you will need to take special care in making sure you keep this area clean. Here are some tips for keeping your smile looking and feeling like you just walked out of the dentist office:

1. Brush Your Teeth Twice Daily
This one might sound obvious, but it's one of the easiest and best things you can do to keep your teeth clean. The American Dental Association (ADA) recommends that you brush your teeth at least twice a day for two minutes with a soft-bristled brush, making sure it allows you to reach all areas of your mouth easily. A worn toothbrush won't do a good job of cleaning your teeth, so be sure to replace your brush every three to four months or when the bristles become frayed.
The best time to brush is when it is most convenient for you and best fits into your daily schedule. Just make sure you brush at least twice a day to keep your teeth healthy.
2. Make a Plan With Your Dentist
Your dentist is an expert at cleaning teeth, and they know how best to clean and maintain the area around your permanent retainer. Be sure to set up and attend your regular cleaning appointments with your dentist to remove any buildup you may be missing yourself.
How to Floss Under a Permanent Retainer
Flossing is an essential part of taking care of your teeth and gums and should be part of your dental hygiene routine. Flossing helps remove buildup and plaque that develops between two teeth by cleaning those hard-to-reach places that you missed when brushing. The ADA recommends flossing at least once a day to keep your smile happy and healthy.
A permanent retainer can make this process a bit tricky because your metal wire might prevent you from reaching the bottom of your teeth, but you can help plaque around your retainer with the proper technique. A floss threader is a great tool to keep your teeth clean and fresh and will help you floss underneath your retainer wire.
Here are a few practical steps to help you floss under your retainer:
Insert a piece of floss through the threader.

Insert it between two of your teeth beneath your retainer.

Pull the threader through and floss your teeth as you usually would.

Pull the floss out.

Repeat by inserting the threader between each individual tooth under the wire

.
How to Clean Your Permanent Retainer
Now that you know how to keep your teeth fresh and clean when you have a permanent retainer, you may want to learn how you can clean and maintain your permanent retainer so you can keep that smile you worked so hard for.
1. Attend Your Dentist Appointments
The most important thing you can do is visit your dentist regularly so they can check up on your retainer and clean any bits of plaque or buildup that you might have missed yourself. Speak to your dentist about setting up a regular appointment schedule that works best for you. While some people visit the dentist every six months, your dentist might recommend you come in for check-ups more often.
Your dentist will check that your retainer is in good condition and keeping your teeth straight and in place. These appointments are also an excellent opportunity for you to ask any questions and get recommendations from your dentist for the cleaning practices that will work best for you.
2. Use a Foam Cleaner for Retainers
A foam cleaner specifically designed for cleaning retainers is a great way to maintain your retainer. It can remove plaque that you might have missed while brushing and is a quick, on-the-go solution that is easy to use.
Our WhiteFoam retainer cleaner is the perfect way to keep your permanent retainer clean and free from buildup and plaque. We specifically designed WhiteFoam to clean all those hard-to-reach places around your retainer and will leave you feeling fresh and more confident with your smile. The pump design makes it fast and easy to use and doesn't require any additional brushing or soaking. Your teeth will be cleaner and whiter in just a few minutes.
For the best results, pair WhiteFoam with our custom foam trays. Just fill the tray with one or two pumps of WhiteFoam and place the tray over your teeth and retainer and leave for a few minutes. After three minutes, your retainer and teeth will be sparkly clean and white. Our custom foam trays are a quick and inexpensive option to keep your permanent retainer clean, and you will feel even happier with your smile.

Use EverSmile WhiteFoam to Keep Your Retainer and Teeth Clean
Properly cleaning your teeth and permanent retainer prevents bacteria and bad breath. Our WhiteFoam cleaner kills up to 99.999% of bacteria, removes buildup and gradually whitens your teeth over time. It deep cleans your teeth and retainer, making your mouth fresh and leaving you with a confident, sparkling smile. Our WhiteFoam cleaner is fast and easy to use, and you will finish your cleaning routine in just a few minutes.
WhiteFoam is perfect for both permanent and plastic retainers alike. We designed it to target the plaque in those hard-to-reach places that you can often miss while brushing. WhiteFoam can help keep your retainer and teeth in tip-top shape, maintaining your beautiful, bright smile.
Shop for our WhiteFoam products now or contact us today to learn more and keep that smile that you worked so hard for bright and sparkly white!
Liquid error (templates/article line 357): Could not find asset snippets/blog-widgets.liquid