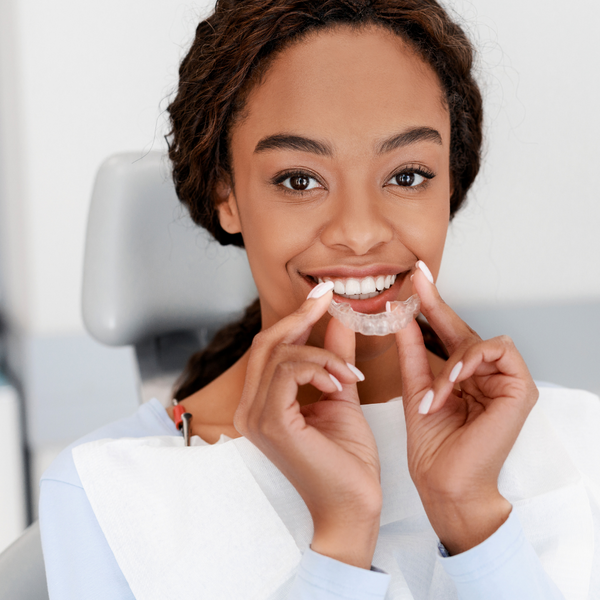 The Facts on Funk: Why Is My Clear Aligner Yellow?
You got clear aligners so that no one would notice them, but your invisible aligners are only invisible if they stay clear.
Many things can stain your aligners or lead to your retainer turning yellow. Certain foods, such as dark-colored berries or sugary chocolates can lead to staining, as can dark beverages such as coffee and tea. Aligner stains can form even if you follow instructions and take them out when you eat or drink. 
It's not just food and drink that can discolor clear aligners, though. Sometimes, what's going on in your mouth can also lead to discoloration. 
Fortunately, there are ways to remove stains from your plastic retainers and aligners. Knowing what's causing the discoloration is just the first step.
The Stains You Know
Coffee and Tea and Mustard, Oh My....
First, the obvious culprits of yellowing.
Not all aligners are made from the same plastic, and although all aligner plastics are porous (like a sponge, microscopically), they are not all equally so.
StraightSmileSolutions did a test with three different aligner materials (Invisalign, ClearCorrect, and Invisacryl) to see how well they held up to common stains: mustard, red wine, hot sauce, and coffee. See the video to the right for results: 
As you can see in the video, mustard was worst for Invisalign and coffee for Invisacryl and Invisalign.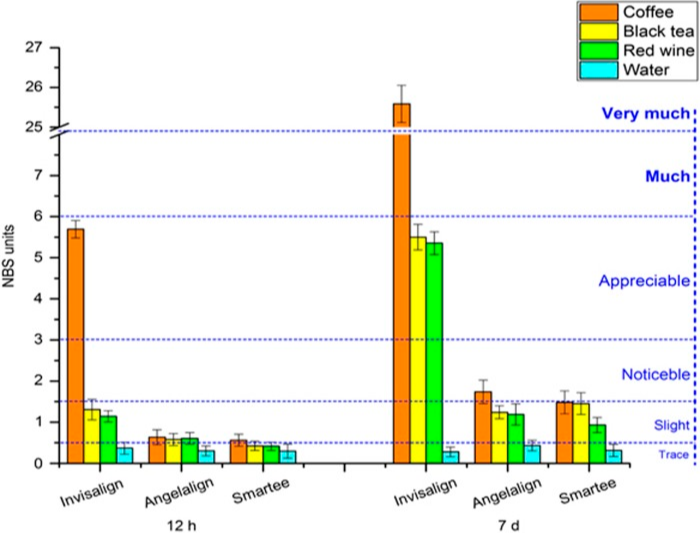 The International Journal of Oral Science did their own rigorous testing of Invisalign, AngelAlign, and Smartee in order to create this chart, showing differing staining levels from coffee, black tea, and red wine (compared to water). Coffee really leaves a mark, though red wine and tea build up, too.
Now that you're familiar with the most common stain-causing agents and which are the worst culprits for your aligners, let's move on to some you may not have thought of.
Sneaky Stain Agents
Mouthwash and retainer soak may not be your best friends...
There are a couple of sneaky staining agents you might not have thought of:  
Colored Mouthwash
Colored Retainer Cleaner
Depending on how porous your aligner material is, the dye in colored mouthwash and colored retainer-cleaning soaks can begin to tint your aligners, which is why these are not recommended. Keep it clear!
Getting Funky
But why is my aligner turning yellow if I brush my teeth?
Now, if you're brushing after every meal or beverage, you might think you're in the clear. And yet, what is that funk? How is your clean aligner getting yellow or cloudy? What is that aroma?
Your aligner fits your teeth very tightly. That pressure is how it moves your teeth into their final position. That tight fit, though, also traps in place anything between your aligner and your teeth: bacteria, plaque, dried saliva, food particles, and staining molecules from drinks. Those things press against your teeth where they can do the most damage.
So even without staining food and beverages, you've got dried saliva, plaque and bacteria trapped between your aligner and your teeth. 
Saliva
Saliva, or spit, plays a big role in the health of your mouth. The American Dental Association calls it the "bloodstream of the mouth." Having enough saliva in your mouth is essential for the health of your teeth and gums. When your mouth is too dry, bacteria and other germs can thrive, leading to tooth decay and gum disease. Saliva also helps you chew your food and encourages swallowing. 
Saliva is mostly made up of water, but it also contains a small amount of minerals, proteins, mucus and enzymes that help to strengthen tooth enamel and keep your mouth healthy. It's those proteins, minerals, enzymes and mucus that can complicate matters if you wear aligners. 
Dried saliva has a color — if you've ever drooled on anything in your sleep (your secret is safe with us!) you know it's not quite clear. The additional substances found in saliva give it a yellow color, especially when it's dried. If saliva gets on your aligners, which it will, and isn't rinsed away quickly enough, there's a chance it will dry and eventually stain the material of the aligners.
Plaque
Even if you are a rockstar when it comes to dental hygiene, you have plaque on your teeth. Everyone does. Plaque is a film that forms on the teeth when bacteria combine with starchy or sugary foods. Sometimes, you can feel plaque on your teeth after eating or if it's been a bit since you last brushed your teeth. It makes your bare teeth feel like they are coated with fuzz.
Although everyone has plaque, some people have more than others. If you eat a lot of sugary foods or foods that are high in starch or simple carbs, you are likely to have more plaque than someone who doesn't. Sugary drinks, like soda, also lead to an increase in plaque on the teeth. Plaque can build up under the gum line as well. If you're dealing with dry mouth or your body doesn't produce an adequate amount of saliva, you're also likely to have higher than average levels of plaque, as there isn't enough spit to give your teeth a good rinsing.
Plaque is troublesome for a few reasons. When those bacteria go to town on your lunch or dinner's sugary leftovers, they produce acids. Those acids can wear away your tooth enamel, leading to cavities and decay. A build-up of plaque can also lead to bad breath and can increase your risk of gum disease. Additionally, when plaque gets under the gum line, the sticky film can irritate the tissues, causing inflammation of the gums.
Left on the surface of the teeth, plaque hardens into tartar. While you can easily remove plaque at home by brushing and flossing, tartar is a different story. It's a yellow-brown, hard material that can only be scraped away by your hygienist or dentist. 
While plaque can be clear, it's occasionally yellow in color. The yellow-colored film can also transfer to your aligners, discoloring them and making them smell less-than-fresh.
Bacteria
Not all bacteria are bad. The average human mouth has more than 700 species of bacteria and other microbes living in it. Some of those species protect your mouth by going to battle against the bad species. Other types of bacteria hurt your mouth, potentially causing cavities, gum disease and bad breath. 
Eating a lot of sugar or starch gives bad bacteria fuel, allowing them to produce acids that can lead to cavities and decay. Not brushing your teeth also helps the bad bacteria to thrive, since it allows plaque to flourish and eventually turn into tartar.
Although your aligners are ultimately helping to improve your smile, they can create a complicated situation when it comes to bacteria, plaque and saliva in the mouth. The tight fit of the aligner means the material is right up against whatever is on the surface of your teeth. If your teeth happen to have a thick layer of bacteria-filled plaque, some of that substance is likely to transfer to the aligner, causing yellowing and discoloration.
Why Keep Your Aligners Clean?
When you wear aligners, you change them out every few weeks, as your teeth change position and slowly move into alignment. Why care if the aligners look a little cloudy or yellow? 
For one thing, you're paying a lot to straighten your teeth. You don't want your aligner to get so yellowed that you're embarrassed to wear it. Also, once you switch trays, you can't go back to the previous one if the set you're wearing gets stained. It might also be too soon to switch to the next set, so your best bet is to keep your trays in as good of a condition as possible until it's time to swap them out. 
How to Get Stains Out of Aligners
How can you get plaque off of aligners? Brushing your teeth after every meal definitely helps keep your aligners and retainer from turning yellow. But what about when you're on the go?  What if you only eat a small bite of chocolate or have a quick sip of soda? Do you need to break out the toothbrush and toothpaste?
Not if you have your secret weapon: EverSmile WhiteFoam!
WhiteFoam contains hydrogen peroxide, which works by breaking up color molecules into compounds that can't stain. It also kills the bacteria in plaque that cause discoloration and odors.
WhiteFoam gets into every space that saliva, plaque, and bacteria can reach, where it eliminates stains and gunk, leaving your teeth and aligners clean, clear and minty.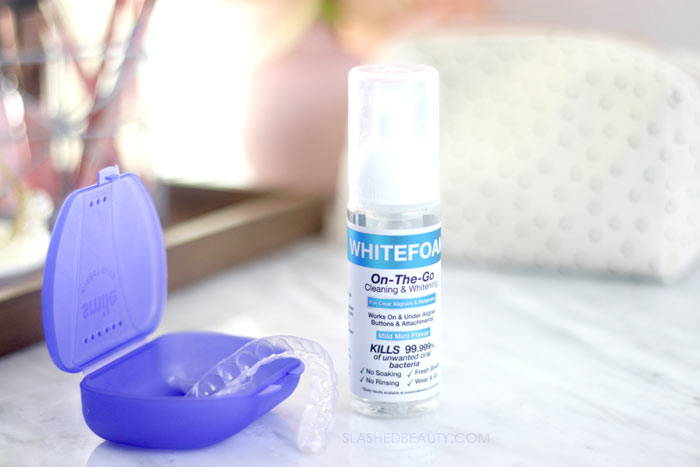 To use WhiteFoam, spread it on the inside of the aligner tray, then put the tray in your mouth. The tight aligner fit now works for you, as the foam gets everywhere it needs to go. There's no need to brush or rinse it, so you can use it anywhere you like, up to four times per day. It's perfect for in-between brushings, before a meeting or while you're out in the evening.
Keep Aligner Stains Away With WhiteFoam
By wearing aligners, you're investing in your smile. Help your investment pay off in the long run and keep your smile looking great while you straighten your teeth by using EverSmile WhiteFoam and our cleaning products for braces, mouth guards and dental restorations.
Liquid error (templates/article line 357): Could not find asset snippets/blog-widgets.liquid